Webasto Teams Up With Expedition Overland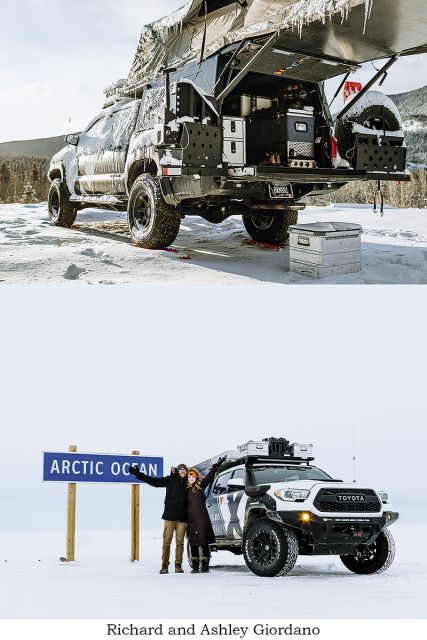 Overland vehicles are built to venture far off the grid into places where self-sufficiency in any weather is key. When the Expedition Overland (XO) team needed a mission-critical solution for their winter journey to the Arctic Circle, a Webasto Air Top Evo 40 12V heater was the logical choice. Efficiently using diesel fuel, it produces the life-saving heat needed when nights dip into sub-zero temperatures.
XO founders Clay and Rachelle Croft had a propane heater in their highly modified 2016 Toyota Tacoma. After testing, they determined a critical need for more heat output and efficiency for the March 1–April 1, 2020, Arctic expedition.
In the overlanding world, diesel heaters are rapidly gaining popularity. Team XO understood the importance of this critical piece of equipment and chose the proven reliability of the Webasto Air Top Evo 40. It features automatic altitude adjustment and low fuel consumption, producing 13,650 BTU/h of heat to the habitat. It was an important decision because the SOLO adventure team of Richard and Ashley Giordano would soon travel in the Team XO Tacoma to Tuktoyaktuk, on the shores of the Arctic Ocean in the Canadian Northwest Territories. Deciding on using the proven technology of a genuine Webasto product ensured parts availability, a trained service network and warranty coverage would be available globally for this and future adventures.
Webasto understood the time constraints of the mission and the importance of proper installation. In February, 2020, it sent its team of technicians to the XO hanger in Bozeman, Montana, to assist in the installation.
"The Webasto Air Top Evo 40 is incredible," said Clay Croft. "It worked its magic in a very harsh environment. We asked a lot from the heater and it met the challenge when it hit -20° F." A video of the process is at bit.ly/WebastoOverland.
"We're excited to be working with Expedition Overland on this project knowing that our product helped keep the Giordanossafe," said Chip Raches, RV application manager, Webasto Thermo & Comfort North America. "Their productions showcase some of the most interesting corners of the planet with compelling storytelling."
Founded in 2010 by Clay and Rachelle Croft, Expedition Overland is a team of adventurers who explore the most remote corners of the planet using purpose-built adventure vehicles. Their Overlanding series is available on Amazon Prime and YouTube. The company's website is www.xoverland.com.
Contact Webasto Thermo & Comfort North America, Inc. 15083 North Rd., Fenton, MI 48430. 800-215-7010. www.webasto.com.