View From The Windshield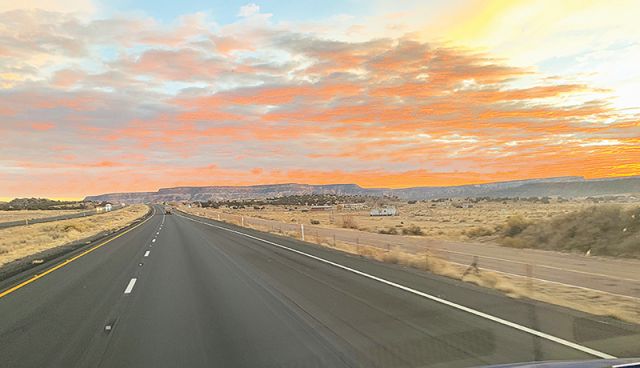 While at home, we watched the first wave of people buying crazy amounts of toilet paper and paper towels. Luckily, we did not need either of these products for our house or the truck.  My typical plan of action while at home is to cook meals that are a little too difficult to cook in the truck and freeze the leftovers.  With the worry of leaving home and not being able to find groceries, I stocked up.  At this time, there were not too many worries as the restaurants were all still open and no stay at home orders.  We had plenty of hand sanitizer in the truck as well.  We were set to hit the road once again.
On our first load out, we picked up computers and monitors to take to a building that had a person get sick.  We figured we would see people very concerned and frightened and just the opposite, one car at a time all day long as volunteers handed out computers and monitors. Our job was to keep them stocked with pallets until we finally ran out of the product. 
We started hearing the doom and gloom of customers shutting down and not accepting freight. Possibly getting to an area and not being able to leave. Next, we start hearing about the need to wear masks and gloves. Then, even more talk about wiping everything down with Clorox wipes and disinfecting anything that anyone might have touched. Next, I see cartoons of a mother possum telling her child to stay away from humans that carry diseases. And then we hear we are on the verge of a freight cliff, and the rates are all tanking.
Now almost a month after that first load back, we are still running freight, still making money, and still healthy. So far, we have not had to wear a mask in public, and the only time Bob wears gloves is when he did not punch in our numbers to get fuel.  The little news I see on my computer has shown empty shelves at the grocery stores, lines to get into the stores, and certain times we can shop.
We have been to the grocery store twice and had no problems. The first grocery store was in Pennsylvania, and I believe run by Mennonites. The store was a little different, but the shelves were fully stocked, even with toilet paper and paper towels.  We were able to get everything on our list, including eggs and cheese.  Our next store was this week, and we stopped at a Walmart next to the interstate in Ohio. No lines, and once again, the shelves were full except for a few items. I was dreading going inside as I expected to find empty shelves and slim pickings. Hopefully, it will be another few weeks before we go back inside a grocery store.
We have four masks in the truck that have not been used, but we have them if we are required to use them to pick up freight.  At one facility, before we could load, we had to take our temperature.  This was a first for us, and we both failed the procedure spectacularly.  The thermometer was odd as it was a gadget we had to turn to on and then hold up to our forehead and hold a button down for one second.  Not sure how Bob messed it up as only one person could be in the room at a time.  My problem came with putting the gadget to my forehead and holding the button for 1 second.  I struggled with getting my bangs out of the way, touching the thermometer to my forehead, and holding the button for 1 second.  One second is pretty short, right?  Well, my one second and her one second were not the same, and on the third time, I held the darn thing to my forehead for what seemed at least ten seconds… Wrong again as now it had a capital "L" in the display.  I assumed that "L" was for "loser", as in who cannot use this darn little thing? She had me try several things to clear the "L" and finally took it away from me and reset it. The tenth time was a charm as I found out I was "normal."  Maybe next time it will go smoother.
We have had no problems delivering freight and no worries about being stuck anywhere.  Our fuel card has reserve cash on it in case we need to go home empty.  We plan to keep working until we find the freight cliff, or we are out a couple of months, and we need a break.
We both feel good, business is good, traffic is light, and this is an excellent time to be a truck driver. Never in my life would I have thought I would see signs from the public stating "Thank You, Truck Drivers." We know that we are not through with the changes happening to our world, but we will continue to make the best of it.
Bob and Linda Caffee started their driver careers after their children left home for college in 2000. Bob started as a driver for a large motor carrier with Linda as a rider. They decided to enter the Expedite industry as team drivers in 2005 and purchased their first Freightliner. Both, Bob and Linda have had their Class A licenses since the early 80's starting out driving in the oil field and hauling grain as fill in drivers where Bob worked as a diesel mechanic. Linda worked at the local country courthouse in data processing.