​Transervice Honors 50 Year Tradition Of Providing Holidays Gifts To Employees' Children And Salvation Army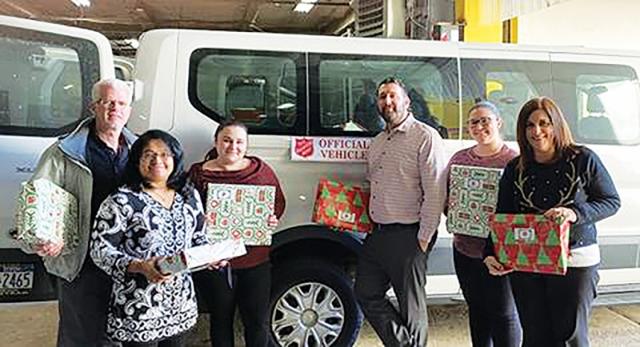 LAKE SUCCESS, NY… Employees of Transervice Logistics Inc., a leading provider of customized fleet maintenance and leasing solutions, wrapped up truckloads of toys to be delivered to their 124 locations across the country to children and grandchildren of company employees. In addition, the company purchased over 200 gifts to be donated to their local Salvation Army.
Transervice associates helping to coordinate the holiday gift distribution are (left to right): David McAleer - Regional Safety Manager; Alice Joseph – Accountant; Antoinette Weiss - Accounts Receivable; Sean Schnipper - Marketing and Social Media Manager; Rosie Snyder - Accounting Department Coordinator; and Regina Snyder - Claims and Risk Management Administrator.
"This 50-year holiday tradition caps off a year of special events and partnerships celebrating our company's 50th year in business providing transportation services across North America," said Sean Schnipper, Marketing and Social Media Manager. "We can't think of a better, or more fun way to say 'Thank you' to our employees and the local community for all the support they have given us over these many years of operation."
Transervice Logistics Inc., headquartered in Lake Success, NY, provides customized transportation solutions including logistics, dedicated contract carriage, fleet leasing, contract maintenance, and material handling equipment leasing and maintenance. It maintains more than 124 regional and local facilities across North America and manages over 24,500 pieces of equipment. It has been providing these services since 1969 and is currently celebrating its 50th anniversary. www.transervice.com