​Top 5 Reasons Independent Contractors Partner with PGT Trucking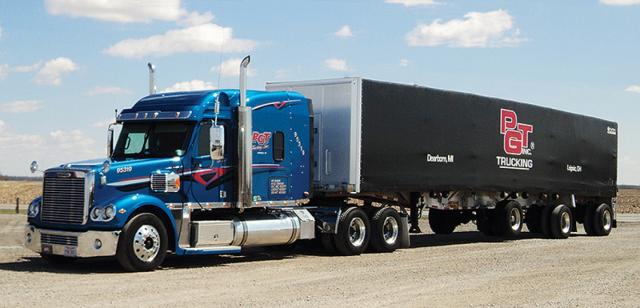 With a passion for helping Independent Contractors follow their dreams of successful business ownership, PGT Trucking is committed to supporting drivers with the top resources, a vast freight network and more than 38 years of experience. Here are the top five reasons Independent Contractors join on and stay with PGT:
•Independence – PGT knows Independent Contractors thrive on freedom – working outside the typical 9-5. PGT's Independent Contractor program allows drivers the option of regional runs, no forced dispatch, and the ability to be home weekly. Additionally, PGT has a solid history of offering Independent Contractors competitive rates with access to a rich and consistent freight base, where drivers can control their schedule and earnings potential.
•Growth – Independent Contractors have both financial and career goals. Partnering with an organization like PGT allows drivers to meet and exceed their expectations, and be rewarded for doing so. Working with a reputable carrier with access to a strong freight network, customer base, and support teams, like PGT Trucking, gives Independent Contractors the ability to take their business to the next level.
"PGT has numerous success stories and top businessmen and businesswomen within our fleet, and these Independent Contractors and Fleet Owners are great examples of what gains could lie ahead for many of our drivers," said Gregg Troian, PGT President.
•Programs – In addition to fuel discounts, 24/7 maintenance support, access to health care programs and discounted parts and tires, Independent Contractors are eligible for numerous bonus programs, including safety, years of service and referrals. Independent Contractors earn 75% of the line haul, and last year grossed $220,000-$230,000 on average.
"PGT's compensation and incentive programs are one of the best in the industry," Said Kacy Odom, PGT Senior Recruiter-Independent Contractor Development. "When talking with incoming Independent Contractors, it is one of the items that sets us apart from other trucking companies."
•Support – To support driver success, PGT offers several customized programs for Independent Contractors, including above average compensation and incentives, access to 24/7 resources, and quality equipment.
Isaac Cannon, an Independent Contractor from South Carolina, has 15 years of service with PGT Trucking and over 43 years in the industry, "I was drawn to PGT because of how the company operates and how they treat their drivers. I began as a Company Driver, went through the Lease Purchase program and am now an Independent Contractor. They stood behind me every step of the way. They care! And that is why I've been here for 15 years."
•Family – PGT is certainly known for its family atmosphere. PGT has remained rooted in its early principles of quality customer service and personal relationships that foster trust, confidence and retention of the best team in the industry. PGT IS Family, and many of PGT's Independent Contractors have joined on through referrals and recommendations from other drivers.
"Our drivers are the foundation of our business, and because of their loyalty to PGT, we have been able to grow and develop programs that foster the family atmosphere we are known for," said Troian. "Drivers want to stay with a company where they feel appreciated, and it is very important for us to continue to invest in our drivers who work so hard in the communities we service."