The States With The Worst, Best & Most Fatal Roads For Drivers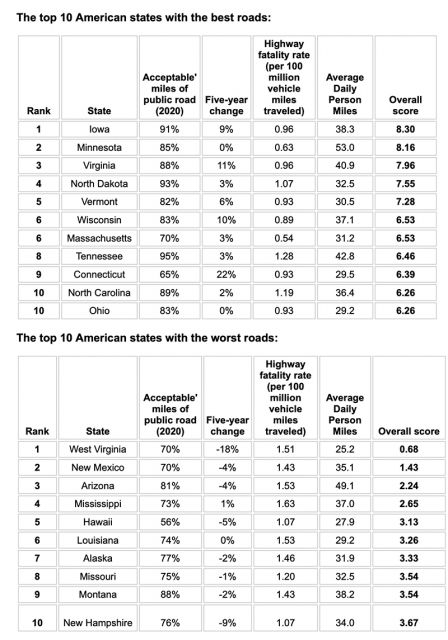 Zutobi has updated their 2021 ranking, to bring you the American states with the best and worst roads in 2022: https://zutobi.com/us/driver-guides/worst-and-best-roads-us-and-international-ranking
So, where are the best and worst roads in America? 
* America's best roads are in Minnesota, Iowa and North Dakota.
* America's worst roads are in West Virginia, New Mexico and Arizona. 
* The highest annual highway fatalities happened in Texas, California and Florida.
According to the research:
* America's best roads are in Iowa, where 91% of all roads in the state were in a good condition and there are less than 1 highway fatalities per 100 million vehicle miles travelled.
* Up till 2021, more roads were acceptable in Minnesota than there was in Iowa, but since 2015 the tables have turned and Minnesota now has 6% less of their roads reaching acceptable standards, pushing it down to second place this year.
* The state with the worst roads is West Virginia, they managed a pitiful score of less than 1/10. The percentage of acceptable roads in the state dropped from 87% in 2015 to just 70% in 2020.
See the full research here: https://zutobi.com/us/driver-guides/worst-and-best-roads-us-and-international-ranking