The Future Of  Trucking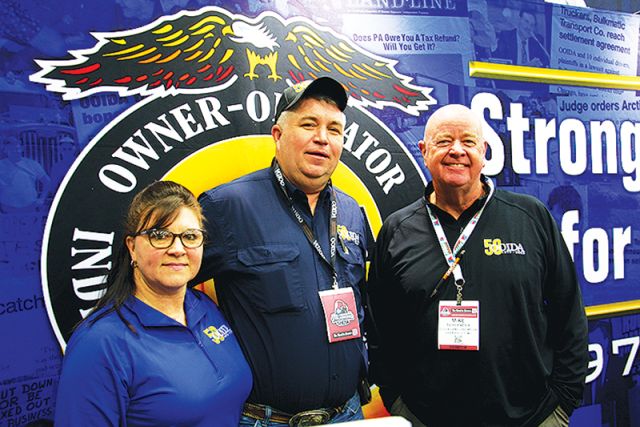 LOUISVILLE, KY…. In a recent interview at the Mid-America Trucking Show, OOIDA Executive Vice President Lewie Pugh had this to say about the future of trucking, "No matter what changes happen in the trucking industry, there is always going to be truck drivers."
When asked about OOIDA's vision for the future, Lewie stated, "Jim Johnston always used to say, 'Do what you are good at.' OOIDA was started by truckers for truckers.  The organization has always been to serve as the owner-operators and independent drivers voice before our government, representing the independents drivers' interests.  We plan to stay the course and continue doing what we are good at – representing the interests of owner-operators and our members.   We hope to continue growing our membership, maybe even double it.  Owner-operators need to join OOIDA because when we all work together, we can move mountains!"
During the interview I asked Lewie the following questions:
What changes do you see coming for the trucking industry:
Lewie Pugh: "Autonomous and EV vehicles and new safety technologies."
Diesel engines?
Lewie Pugh: "They are not going away any time soon.
EV vehicles?
Lewie Pugh: "There will be a place for them, albeit limited."
Autonomous vehicles?
Lewie Pugh: "There will also be a place for them, but there will still have to be a lot of drivers out there.  It will definitely take some people's jobs. "
What do you see happening with drivers and owner-operators?
Lewie Pugh: "Drivers and the industry will change, but Professional Drivers will always be here and some of these drivers will want to own their truck and run their own business."
What changes would you like to see?
Lewie Pugh: "I would like to see broker reform, the government address the parking issue, and the elimination of overtime extensions for truckers.  I would also like to see the FMCSA, DOT, and Congress to start listening to the people who actually drive trucks.  I think poorly trained drivers, foreign drivers, and government over-regulation are all major problems in the trucking industry.  I believe drivers should be well compensated for their time.  We should invest in the person behind the wheel because safety starts there."
Lewie Pugh is Executive Vice President of OOIDA and a Professional Truck Driver for 26 years, 22 years as an Owner-Operator.  Lewie has been an OOIDA member for two decades. He quit trucking in 2017 and moved to Missouri to begin working at OOIDA as a Regulatory Specialist. He became manager of OOIDA's Business Service Department in March of 2018, and was elected Executive Vice President in April of 2018.
OOIDA (The Owner Operator Independent Driver Association) has been fighting for the rights of small business truckers since 1973, meeting with lawmakers, regulators, and industry shareholders.  The organization has grown to over 150,000 members.

Photo caption:
Jill Myer, Lewie Pugh, and Mike Schermoly