​Shell Lubricants Introduces Shell Rotella® T6 15W-40 Full Synthetic Heavy-Duty Diesel Engine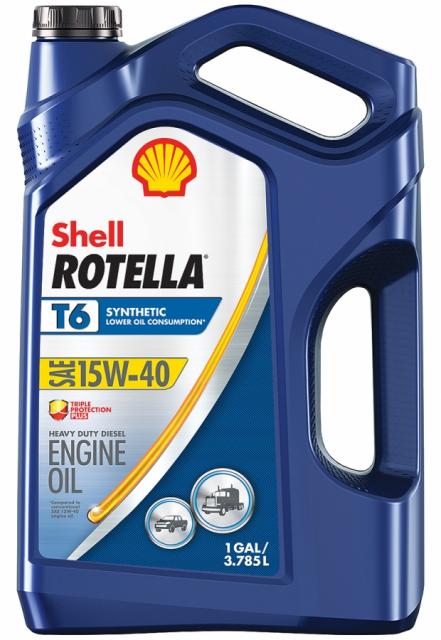 Shell Rotella® T6 15W-40 full synthetic heavy-duty diesel engine oil has been introduced to provide the performance expected from a full synthetic engine oil in the viscosity grade drivers of trucks have historically preferred and trusted. The oil features Triple Protection Plus to protect against wear, deposits and oil breakdown and it has been enhanced with fully synthetic base oils plus advanced additive technology that comes with all Shell Rotella T6 oils.
Applications:
Shell Rotella® T6 15W-40 full synthetic is suitable for new and older diesel-powered vehicles from Class 8 tractor/trailers to heavy duty pickups, delivery, utility and school bus fleets. The oil is suitable as a replacement for mineral and synthetic based SAE 15W-40 API CK-4, CJ-4 oils and offers added low temperature protection over conventional 15W-40s. Shell Rotella® T6 15W-40 full synthetic meets or exceeds diesel engine requirements of API CK-4, Cummins, Caterpillar, Detroit Diesel, Mack, Mercedes Benz, Volvo and Allison.
Key benefits include:
•Extended drain capable
•Delivers improved oxidation performance vs API CJ-4 technology
•Improved wear performance versus API CJ-4 technology
•Protection in extreme operating conditions and extreme climates
•Improved low temperature flow[i]
•Lower oil consumption[ii]
Specifications, approvals and recommendations:
•API CK-4, CJ-4, CI-4 PLUS, CI-4, CH-4
•ACEA E9
•Cummins CES 20086, 20081
•Volvo VDS-4.5, VDS-4
•MACK EOS-4.5
•Detroit Fluid Specification (DFS) 93K222, 93K218
•MB-Approval 228.31
•JASO DH-2
•Caterpillar ECF-2, ECF-3
•MAN M3575
•JASO MA, MA2
•Allison TES-439
Shell Rotella® Portfolio of CK-4 & FA-4 Oils
Shell Rotella T6 15W-40 full synthetic joins the Rotella family of heavy duty engine oils including Shell Rotella® T4 Triple Protection 15W-40 and 10W-30, Shell ROTELLA® T5 10W-30 Synthetic Blend, Shell Rotella® T5 Ultra and Shell Rotella® T6 Multi-Vehicle 5W-30 as part of the Shell Rotella® portfolio of oils. They have been developed by the makers of the No. 1 selling diesel engine oil to meet the API CK-4 and FA-4 performance categories for diesel engine oil.
For more information about the Shell ROTELLA® engine oils visit Rotella.com. To stay up-to-date on the latest news from Shell ROTELLA, follow Shell ROTELLA® on Facebook, Twitter, and Instagram for updates.