Rush Enterprises Announces Limited-Edition Pink Mudflaps And Monetary Donation In Support Of The Breast Cancer Research Foundation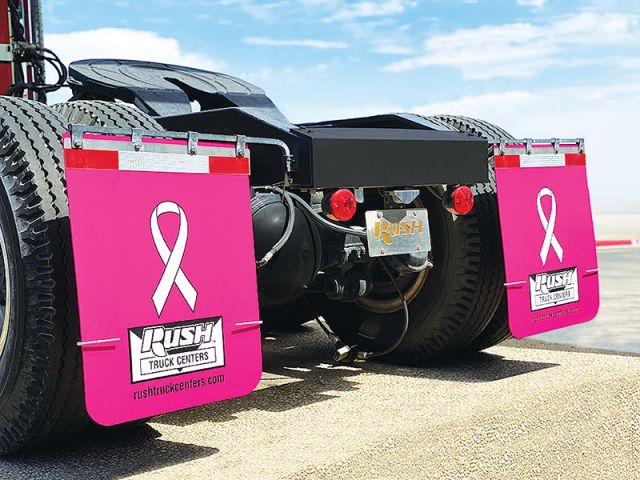 San Antonio, TX…  Rush Enterprises, Inc.,  which operates the largest network of commercial vehicle dealerships in North America, is offering limited-edition pink mudflaps to raise awareness for Breast Cancer Awareness Month. The pink mudflaps, which feature the Rush Truck Centers logo and iconic ribbon are available at all Rush Truck Centers locations in September and October. For every mudflap sold, Rush Truck Centers and promotional marketing company Boundless will donate $2 to the Breast Cancer Research Foundation. 
"For the second year, we are proud to offer this mudflap to our customers and display it on our own company vehicles to help raise awareness for breast cancer," said W.M. "Rusty" Rush, Chairman, Chief Executive Officer and President, Rush Enterprises, Inc. "This disease directly impacts many of our customers and employees, and we are honored to support the Breast Cancer Research Foundation and its important work which helps to improve outcomes and save lives," he added. 
Founded in 1993, the Breast Cancer Research Foundation is the largest private funder of breast cancer research in the world.  There are more than 4 million breast cancer survivors in the U.S., and deaths from breast cancer have declined 43% since 1989. More than 43,000 lives are lost to the disease each year.
The pink mudflaps come in three sizes, designed to fit all makes and models of commercial vehicles. They are .16" thick virgin UV-stabilized polyethylene resin with a smooth finish, curl-resistant and durable yet flexible and manufactured with pre-drilled holes for easy installation. 
Since 2022, Rush Truck Centers has raised more than $15,000 dollars for the Breast Cancer Research Foundation by selling mudflaps and limited-edition graphic tees to its employees and customers throughout the United States and Canada. 
For more information, please visit us at www.rushtruckcenters.com, www.rushenterprises.com and www.rushtruckcentersracing.com, on Twitter @rushtruckcenter and Facebook.com/rushtruckcenters.