Peterbilt Offers New PACCAR TX-18 Automated Transmission Features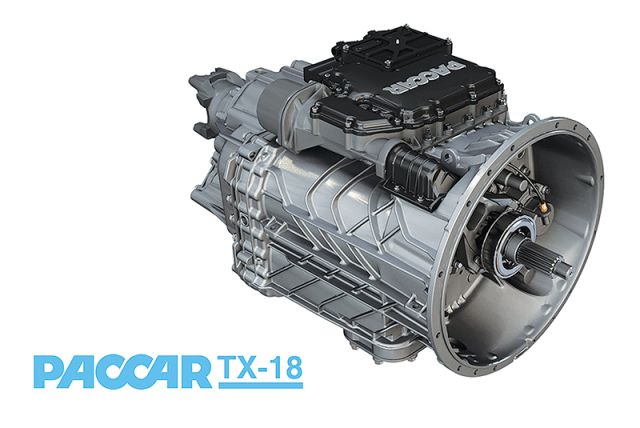 Denton, TX… Peterbilt Motors Company is pleased to announce the introduction of the Off-Road Calibration and Rock-Free Mode for the PACCAR TX-18 PRO transmission available in Peterbilt Models 579, 567, 589, 389, 367 and 365.
The PACCAR TX-18 PRO transmission provides excellent productivity, efficiency and uptime for a superior driver experience for on- and off-highway and is paired exclusively with the PACCAR MX-11 and MX-13 engines. The transmission is designed to perform in a variety of vocational applications including heavy haul, dump truck, wreckers and cranes. The combination of the TX-18 PRO transmission and a PACCAR MX engine provides up to 1,850 lb. ft of torque and is rated up to 140,000 lbs. GCWR.
The PACCAR TX-18 PRO transmission features a new secondary mode which comes from the factory with the newly released Off-Road Calibration. Switching between the primary mode and Off-Road Calibration can be done in a matter of seconds using the stalk-mounted shifter. The system learns road terrain and surface conditions and responds automatically for an improved driver experience. It minimizes unnecessary shifting and maximizes time in gear in challenging terrain for excellent performance.
Rock-Free Mode is now standard on the PACCAR TX-18 PRO transmission. If off-road conditions impact maneuverability the Rock-Free Mode can be engaged with the flip of a switch. Once engaged, the transmission can be quickly shifted between drive and reverse to rock free, fully enabling the truck and then automatically returning to its default setting. 
"The integration of these new features on the PACCAR TX-18 PRO transmission enhances Peterbilt's ability to provide the best-performing trucks in the industry and deliver productivity, efficiency and uptime to our customers," said Jake Montero, Peterbilt assistant general manager, sales and marketing.
Peterbilt Motors Company is recognized as the "Class" of the industry. With a complete lineup of diesel, natural gas and electric vehicles, Peterbilt has earned a global reputation for superior engineering, quality and
craftsmanship. Peterbilt is Driving Uptime Every Day through innovative aftermarket services and advanced technology solutions delivered through its 400+ dealer locations in North America.
Visit Peterbilt.com for more information.