Mike Crawford Named Vice President of Ohio Peterbilt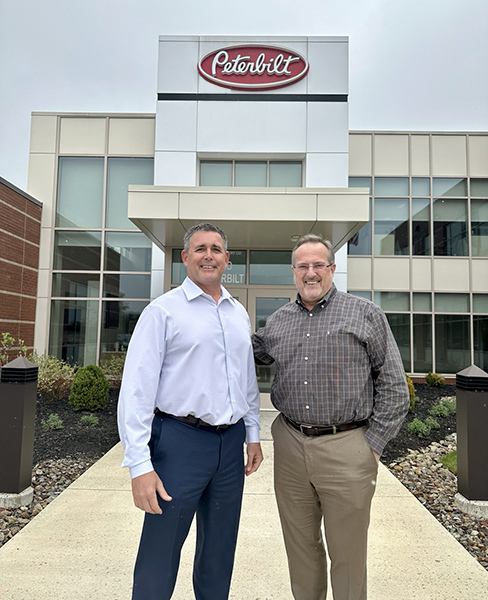 BROADVIEW HEIGHTS, OH… Ohio Machinery Co. is pleased to announce that Mike Crawford has been named Vice President of Ohio Peterbilt. Mike joined Ohio Peterbilt as Sales Manager through the acquisition of Allstate Peterbilt in 2018 and has a lifetime's worth of experience in the on-highway truck industry.
Prior to joining Ohio Peterbilt, Mike's career began as a Sales Representative at the local Volvo/GMC/Mack truck dealership in Maumee, Ohio where he specialized in new and used truck sales and deepened his knowledge of all aspects of the on-highway truck distribution business. In 2011, Mike went to work for Peterbilt as the Medium Duty District Sales Manager for the Great Lakes Region where he was promoted to Senior District Sales Manager and then National Accounts Manager. Allstate Peterbilt, a multistate Peterbilt dealer based in Minneapolis, Minnesota, then hired Mike to be the Regional Sales Manager for northern Ohio in 2015.
During his five-year tenure as Sales Manager for Ohio Peterbilt, Mike's responsibilities included leadership of Ohio Peterbilt's sales team, managing a $50 million truck inventory, and the maximization of both new truck market share and profits for the company.
Ken Taylor, President of Ohio Machinery Co., said, "I am thrilled to have Mike lead Ohio Peterbilt into the future. We have the privilege and opportunity to become the top on-highway truck dealer in the state of Ohio by taking care of the customer better than anyone else. I see us ultimately performing at a very high level in sales, parts, and service as one of Peterbilt's premiere dealers in North America."
Mike Crawford said, "I am excited to assume greater responsibility as Vice President of Ohio Peterbilt. I am confident that, with my leadership and our veteran management team, we will fulfill the company's goal for Ohio Peterbilt to be the top performing on-highway truck dealership not only in the state of Ohio but the entire Midwest."
About Ohio Machinery Co. 
For nearly 40 years, Ohio Machinery Co. has participated in the on-highway and vocational truck market, first as a statewide dealer of Caterpillar truck engines and most recently as a Peterbilt dealer doing business as Ohio Peterbilt and as a Ford dealer doing business as Allstate Ford of Youngstown. Ohio Peterbilt sells and supports heavy duty, medium duty and vocational Peterbilt trucks, and its parts stores carry both OEM and aftermarket parts. Allstate Ford of Youngstown sells and supports the Ford Pro commercial line.
In all, Ohio Machinery Co.'s Truck Group operates from 10 locations in Ohio.