​Magnum Trailer & Equipment Introduces New Moose Bumper for Kenworth W990L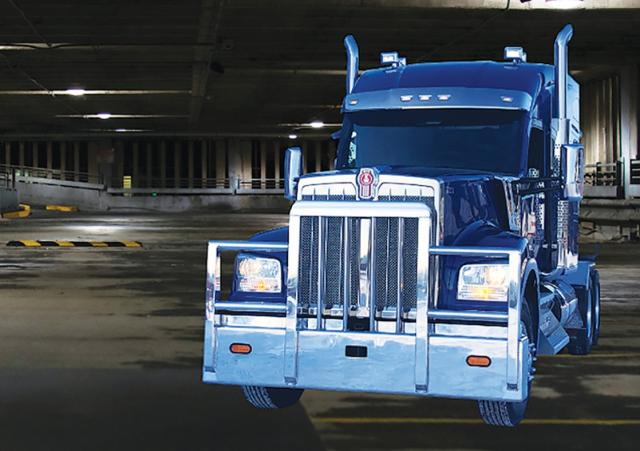 Abbotsford, BC… Magnum Trailer & Equipment Inc, a manufacturer and service provider for heavy duty trucks and trailers, is adding to its Kenworth line of front end protection with the new Texas Titan Four Post Moose Bumper built for the Kenworth W990L. For maximum impact protection, this bumper uses quality high strength materials, like 6061-T6 aluminum tubing with an 18.5" extruded beam reinforced with 3/16" stiffeners. It bolts on easily to the front of your truck with a heavy duty steel mount assembly to support the front facing aluminum guard.
Special features, like Magnum's Quick Latch System allows the operator to fold down the bumper quickly and conveniently to access the engine - with one simple click. This feature not only saves time, it ensures drivers don't neglect regular engine maintenance due to difficulty accessing the engine compartment. The Titan 2000 Easy Lift System™ is an available option that makes the grille guard 90% lighter when opening and closing the bumper. High strength boxed vertical uprights and 3" OD cross tubes add additional strength to reduce twisting on impact. The bullet shaped vertical grille bars provide unmatched strength and style. A Urethane anti-rattle system eliminates vibration and rattling, and quad hinge bushing technology eliminates pivot wear. The heavy duty center tow pin doubles as a safety latch. To compliment the look of this Texas Titan, the bumper has a polished mirror-like finish, LED turn signals and custom extruded header bar.
This Kenworth moose bumper is a welcome addition to Magnum's robust line of front end protection, including moose bumpers, bumper guards, grille guards and roll back guards. Magnum creates front end protection offerings as well as aftermarket truck accessories for Freightliner, International, Kenworth, Mack, Peterbilt, Volvo and Western Star Trucks.
Since 1984 Magnum Trailer & Equipment has been designing, manufacturing and servicing the heavy duty trucks and trailer industry throughout the Americas. With three distinct divisions; Truck Accessories, TrailerDesign & Manufacturing and Truck& Trailer Service, Magnum is known for its innovative design and engineering solutions, using quality materials to deliver a long lasting product.
For more information, go to www.magnumtrailer.com.