Koch Trucking – A Company Determined To Empower Women In The Trucking Industry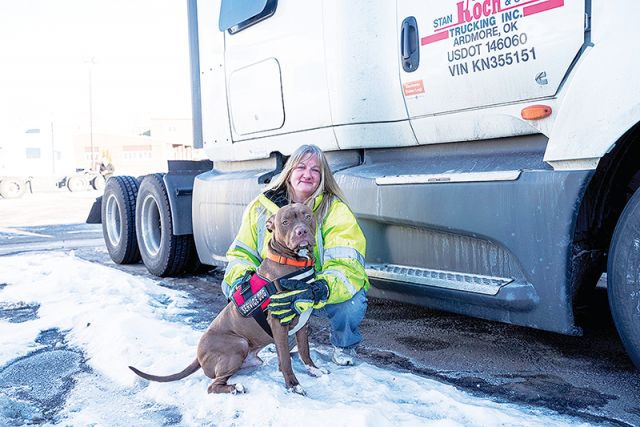 Right before the pandemic, the Bureau of Labor Statistics reported that women held 50.04% of American jobs as of December 2019 – the highest in a decade. With women making up close to half of the work force, it is easy to forget that it was just one hundred years ago that women made up only 20% of the workforce and less than 60 years ago earned the legal right for equal pay in that workforce.
To this day, women are still working to take up equal space in the workforce. While the gender disparity gets better every day, still many industries, like the trucking industry, remain very male-dominated fields.
As of 2022, women make up just 10% of the trucking industry. While that number is the highest we've yet seen, and continuing to grow every day, industry leaders and workers are still working hard to close the gender gap in trucking.
At Koch Trucking, women participate in every aspect and role of our company – from dispatch, to leadership, to drivers. Their stories as to how they ended up in such a male dominated field like trucking is as unique as they are, but one thing they all have in common is they wouldn't want to be anywhere else.
"Trucking is what I do, it's in my blood," says Carol Lynn Riley, a driver in Koch Trucking's Super Regional Fleet. Carol, a seasoned professional driver and has been driving with Koch for almost a year now, is no stranger to what comes with being a woman in the industry. "As a female out here, as a driver, you're going to get guff" she says. "The biggest thing is don't be afraid to ask for help. There is no stupid question other than the unasked question."
Angela Scanlon, current Director of Human Resources at Koch and a 12 year veteran in multiple areas of the trucking industry agrees. "I think we need to keep showing other women what it looks like to work in this industry," she says, "-that we are more than capable. Let's address the concerns but also simply empower women to ask for what they need and go after what they want." Hiring women in a male-dominated industry is the first step, but all women here would agree that empowerment is key.
Tammy Lueck, director of Koch Trucking's Dedicated Fleet, started in the trucking industry as a receptionist 19 years ago. Though her father was a truck driver and she's been around trucks her whole life, she never thought she would go into the trucking industry as her career, and yet decades later she plays an integral role in the company.
"Koch has always been very supportive and is always encouraging women to take that next step. In fact, I am proud to say I am where I am today because of the support and opportunities I have received from Koch."
As we continue through Women's History Month this March 2022, we continue to highlight women in our industry as we see firsthand the positive impact they have on it. And we hope that any woman looking to enter this industry knows they are encouraged, empowered, appreciated, and supported in their journey. We believe that the open road is truly open to all.