​Just Another Perfect Day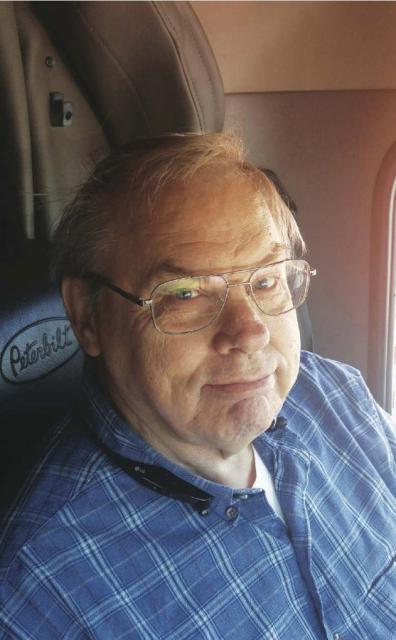 Monday morning started early one week recently. Breakfast at home was quick, hot, and nutritious, including a thermos for the road. Leaving the house at 7:00 AM sharp, I drove to the terminal using "personal conveyance" on the ELD. This is a great new technology, I remember thinking.

Backing under my trailer, the 5th wheel pin locked in place with a very satisfying click, lifting the stepdeck an inch off the ground. A 15-minute pre-trip inspection showed everything in working order -- no air, fluid, or personal information leaks.
Leaving the yard, which was swept clean and dry, I turned onto the highway that went straight to my destination. It was a beautiful, warm day with no clouds, no wind, and very little traffic. My load that day was light as a feather and paid an extra bonus for an early delivery.
Other drivers waved at me, with all their fingers, wishing me well as I motored up the road. Trucks allowed me to pass, then graciously flicked their low beam headlights in the traditional signal to come back over. Some were happy to see me coming, and others were delighted to see me go, but all of them were satisfied with my participation.
Approaching a construction site, wide-spaced barrels lined the work area, leaving plenty of room to squeeze from two lanes to one. Cars held back, giving me space to merge, and the workers were positioned for maximum visibility. Exiting the construction zone, traffic resumed highway speed in a smooth, two-lane acceleration.
Everyone around me maintained a uniform and moderate acceleration, allowing all the vehicles to merge without swerving or braking. Shortly thereafter, approaching a police car parked up ahead on the shoulder, I signaled a lane change left, and cars moved out of my way in an instant. Then they graciously backed off, just long enough for me to resume in the right lane.
Arriving at the windfarm receiving the load I was hauling, the security guard was glad to see me, and offered a cup of hot coffee. Before I could finish the java, they led me a few miles to the tower site, where I was immediately ushered under the spot crane. Quickly as I could undo the winch straps, the crew worked to lift the load off my wagon. Within minutes I was free to depart.
After a friendly wave from the crane operator, I drove off the pad and down the dirt lane, ready for a word with my dispatcher. She was delighted to hear from me, thanked me profusely for doing a good job, and then rewarded me with an assignment for tomorrow. There was just enough daylight to get parked at a nearby truckstop.
The newly-built travel plaza featured high speed pumps under well-lighted canopies, and widely spaced service bays next to warm, spacious showers. The full-service 24-hour café offered homecooked meals served by sweet young waitresses impressed by seasoned drivers sporting chain driven wallets. With a satisfied burp and a five dollar tip stolen from a nearby table, I retired for the night to my penthouse on Peterbilt Row. There in the glow of digital dash lights I recalled the exact date of this too-perfect day: April 1st. That's right: April Fool's!
THOUGHT FOR THE DAY: If you're not the lead dog, the scenery never changes.
<!-- /* Font Definitions */ @font-face {font-family:"Cambria Math"; panose-1:2 4 5 3 5 4 6 3 2 4; mso-font-charset:0; mso-generic-font-family:roman; mso-font-pitch:variable; mso-font-signature:-536870145 1107305727 0 0 415 0;} @font-face {font-family:Calibri; panose-1:2 15 5 2 2 2 4 3 2 4; mso-font-charset:0; mso-generic-font-family:swiss; mso-font-pitch:variable; mso-font-signature:-536859905 -1073732485 9 0 511 0;} @font-face {font-family:"ITC Clearface Black"; panose-1:2 11 6 4 2 2 2 2 2 4; mso-font-alt:Calibri; mso-font-charset:0; mso-generic-font-family:auto; mso-font-format:other; mso-font-pitch:variable; mso-font-signature:3 0 0 0 1 0;} @font-face {font-family:"ITC Clearface"; panose-1:2 11 6 4 2 2 2 2 2 4; mso-font-alt:Calibri; mso-font-charset:0; mso-generic-font-family:auto; mso-font-format:other; mso-font-pitch:variable; mso-font-signature:3 0 0 0 1 0;} /* Style Definitions */ p.MsoNormal, li.MsoNormal, div.MsoNormal {mso-style-unhide:no; mso-style-qformat:yes; mso-style-parent:""; margin-top:0in; margin-right:0in; margin-bottom:8.0pt; margin-left:0in; line-height:107%; mso-pagination:widow-orphan; font-size:11.0pt; font-family:"Calibri",sans-serif; mso-ascii-font-family:Calibri; mso-ascii-theme-font:minor-latin; mso-fareast-font-family:Calibri; mso-fareast-theme-font:minor-latin; mso-hansi-font-family:Calibri; mso-hansi-theme-font:minor-latin; mso-bidi-font-family:"Times New Roman"; mso-bidi-theme-font:minor-bidi;} p.MsoNoSpacing, li.MsoNoSpacing, div.MsoNoSpacing {mso-style-priority:1; mso-style-unhide:no; mso-style-qformat:yes; mso-style-parent:""; margin:0in; margin-bottom:.0001pt; mso-pagination:widow-orphan; font-size:11.0pt; font-family:"Calibri",sans-serif; mso-ascii-font-family:Calibri; mso-ascii-theme-font:minor-latin; mso-fareast-font-family:Calibri; mso-fareast-theme-font:minor-latin; mso-hansi-font-family:Calibri; mso-hansi-theme-font:minor-latin; mso-bidi-font-family:"Times New Roman"; mso-bidi-theme-font:minor-bidi;} .MsoChpDefault {mso-style-type:export-only; mso-default-props:yes; font-size:11.0pt; mso-ansi-font-size:11.0pt; mso-bidi-font-size:11.0pt; font-family:"Calibri",sans-serif; mso-ascii-font-family:Calibri; mso-ascii-theme-font:minor-latin; mso-fareast-font-family:Calibri; mso-fareast-theme-font:minor-latin; mso-hansi-font-family:Calibri; mso-hansi-theme-font:minor-latin; mso-bidi-font-family:"Times New Roman"; mso-bidi-theme-font:minor-bidi;} .MsoPapDefault {mso-style-type:export-only; margin-bottom:8.0pt; line-height:107%;} @page WordSection1 {size:8.5in 11.0in; margin:1.0in 1.0in 1.0in 1.0in; mso-header-margin:.5in; mso-footer-margin:.5in; mso-paper-source:0;} div.WordSection1 {page:WordSection1;} -->