​JumpSmart – Portable Vehicle Jump Starter/Flashlight/Power Bank with 37000 mWh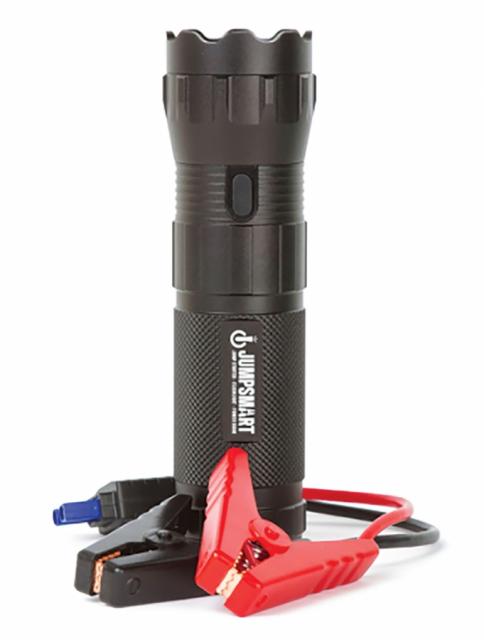 *JUMP STARTER The JumpSmart can jump start up to an 8-cylinder, 5.0L engine with ease (up to 2.0L Diesel). Its powerful 37000 mWh high-grade Lithium-Polymer battery is compatible to jump start with most cars, trucks, SUV's, boats, motorcycles, lawn mowers, ATV's, and more! Re-charge up to 1000 times. FLASHLIGHT Beyond its jump start features, this 8W, 330 Lumen LED Flashlight has 4-Modes (High Beam, Low Beam, SOS & Strobe), and a 495ft reach is the perfect tool for daily use, traveling, outdoor activities, and in emergency situations. POWER BANK Use the patented SmartSpeed Technology to charge (1) USB device fast at 2.4 amps when you run out of power. Charge up virtually any device, such as mobile phones, tablets, cameras, navigations units, and more!
*ERGONOMICAL ALUMINUM DESIGN Aside from the other plastic and rubber jump starters on the market, this durable, anodized, and CNC-machined aluminum extruded casing with knurled casing can withstand collision that comes with everyday use.
*AWARD-WINNING The JumpSmart has been a recipient of multiple awards, including: Editor's Choice, Best of CES by Inno & Tech Today Top 50 Most Innovative Products by Inno & Tech Today Twice Picks Awards Winner by Twice/li> VIP Award by Twice Best in Technology Product Showcase Winner by ASI
* MSRP: $119.99
* Available at www.limitlessinnovations.com