John Brown Trucking Driver Michael Woods Retires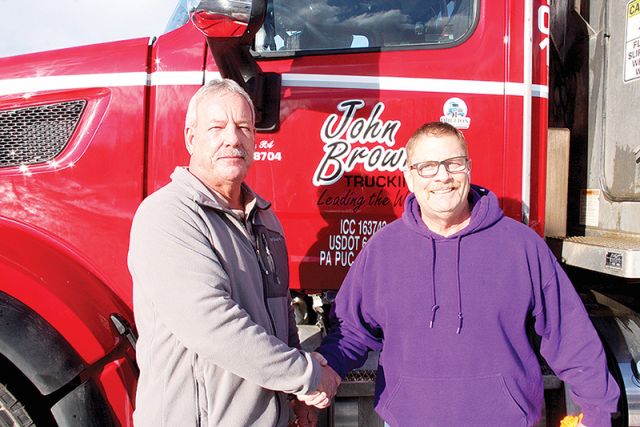 PORTERSVILLE, PA… Professional Truck Driver Michael Woods retired from John Brown Trucking this past February 15th after 21 years with the company.  Michael did local work, operating quad axles and end dumps for John Brown Trucking.  He received an award for 1 Million Safe Miles while employed at the company.
Michael is an Air Force veteran, achieving the rank of Sargent.  He was on active duty from 1976-1980 and was stationed at Howard Air Force Base in Panama from 1976-1978.  Michael had the honor of guarding Air Force One when Jimmy carter came to sign the Panama Canal Treaty.  He served in the Air National Guard in Pittsburgh from 1986-1988 before starting his career as a Professional Truck Driver.
Regarding his 21 years at John Brown Trucking, Michael said, "It's been a great career here at John Brown and I wouldn't want to work for any other company.  Every driver has good and bad opinions about the company they work for, but I feel that John Brown Trucking (a division of American Bulk Commodities) is one of the best companies in the trucking industry to work for."
Terminal Manager Harry Frelin said, "Michael is a good guy and very professional.  He has done a great job for John Brown all of these years.  He has always had a positive attitude.  As good as an employee he's been – Michael is an even better person."
Michael lives in New Castle, Pennsylvania with his wife Sandra.  They have two children, Michele and James.  He is active in his Church and sings bass in the Choir.  Michael's future plans start with shoulder surgery and then he will be spending more time with his children and grandchildren.  He said that he "may even get my yard work done."
Best of luck, Michael on your retirement!