​In His Own Words: How Justin Shea Grew His Business Through Partnership With PGT Trucking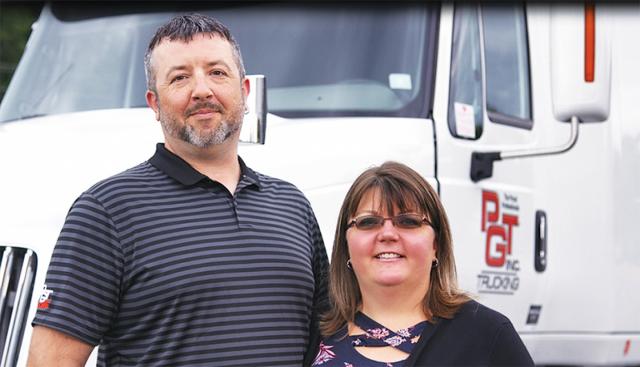 For those with an entrepreneurial spirit, driving as an Independent Contractor opens doors.
Justin Shea spent ten years on the road driving as an Independent Contractor for PGT Trucking, and more recently has taken advantage of new business opportunities presented to him. In his 12-year tenure with PGT, he has driven more than one million safe miles, purchased additional trucks, became a fleet owner, and is now a PGT Agent, with his terminal location in Franklin, PA.
"Driving professionally creates an abundance of opportunity to generate an income for your family, but like a lot of careers, there can be challenges," said Shea.
For more than three decades, PGT has remained rooted in its early principles of quality customer service and personal relationships that foster trust, confidence and retention of the best team in the industry. It is these business values that have helped drivers overcome industry challenges and set them up for long-term success.
"PGT is very family-oriented, and they take really great care of their drivers," added Shea. "They want to see their drivers succeed and do well. We are all out on the road for one reason – we are trying to provide for our families and give them the best life possible."
Engrained in the trucking industry, Justin comes from a line of truck drivers. His father and uncle are both Independent Contractors for PGT, with more than 30 years of driving experience. "It was almost natural that I get involved," said Shea. "I drove for my father for three and a half years, and then I bought my own truck. Since then, I've continued to grow my fleet and take advantage of the opportunities presented to me to better myself and my business."
The trucking industry is competitive, and PGT knows that truck drivers have options. That is why PGT has not waivered on their solid history of offering Independent Contractors competitive rates with access to a rich and consistent freight base, where drivers can control their schedule and earnings potential.
"Rates have been at an all-time high, and with the abundance of freight options, the home time is better for drivers, too," said Shea. "The opportunities for a driver in the industry right now are endless. You get out of it what you put into it."
PGT currently has more than 1,000 drivers, half of which are Independent Contractors with an average tenure of five years. Of PGT's Independent Contractors, more than 130 have earned the respected title of Safe Driver or Million Mile Driver.
To support driver success, PGT offers several customized programs for Independent Contractors, including above average compensation and incentives, access to 24/7 resources, and quality equipment. Working with a reputable carrier with access to a strong freight network, customer base, and support teams, like PGT Trucking, gives Independent Contractors the ability to take their business to the next level.
Entrepreneurial success is within reach. "You can never set your goals too high. Work hard, and dedicate yourself to it," says Shea.
<!-- /* Font Definitions */ @font-face {font-family:"Cambria Math"; panose-1:2 4 5 3 5 4 6 3 2 4; mso-font-charset:0; mso-generic-font-family:roman; mso-font-pitch:variable; mso-font-signature:-536870145 1107305727 0 0 415 0;} @font-face {font-family:Calibri; panose-1:2 15 5 2 2 2 4 3 2 4; mso-font-charset:0; mso-generic-font-family:swiss; mso-font-pitch:variable; mso-font-signature:-536859905 -1073732485 9 0 511 0;} @font-face {font-family:"ITC Clearface Black"; panose-1:2 11 6 4 2 2 2 2 2 4; mso-font-alt:Calibri; mso-font-charset:0; mso-generic-font-family:auto; mso-font-format:other; mso-font-pitch:variable; mso-font-signature:3 0 0 0 1 0;} @font-face {font-family:"ITC Clearface"; panose-1:2 11 6 4 2 2 2 2 2 4; mso-font-alt:Calibri; mso-font-charset:0; mso-generic-font-family:auto; mso-font-format:other; mso-font-pitch:variable; mso-font-signature:3 0 0 0 1 0;} /* Style Definitions */ p.MsoNormal, li.MsoNormal, div.MsoNormal {mso-style-unhide:no; mso-style-qformat:yes; mso-style-parent:""; margin-top:0in; margin-right:0in; margin-bottom:8.0pt; margin-left:0in; line-height:107%; mso-pagination:widow-orphan; font-size:11.0pt; font-family:"Calibri",sans-serif; mso-ascii-font-family:Calibri; mso-ascii-theme-font:minor-latin; mso-fareast-font-family:Calibri; mso-fareast-theme-font:minor-latin; mso-hansi-font-family:Calibri; mso-hansi-theme-font:minor-latin; mso-bidi-font-family:"Times New Roman"; mso-bidi-theme-font:minor-bidi;} .MsoChpDefault {mso-style-type:export-only; mso-default-props:yes; font-size:11.0pt; mso-ansi-font-size:11.0pt; mso-bidi-font-size:11.0pt; font-family:"Calibri",sans-serif; mso-ascii-font-family:Calibri; mso-ascii-theme-font:minor-latin; mso-fareast-font-family:Calibri; mso-fareast-theme-font:minor-latin; mso-hansi-font-family:Calibri; mso-hansi-theme-font:minor-latin; mso-bidi-font-family:"Times New Roman"; mso-bidi-theme-font:minor-bidi;} .MsoPapDefault {mso-style-type:export-only; margin-bottom:8.0pt; line-height:107%;} @page WordSection1 {size:8.5in 11.0in; margin:1.0in 1.0in 1.0in 1.0in; mso-header-margin:.5in; mso-footer-margin:.5in; mso-paper-source:0;} div.WordSection1 {page:WordSection1;} -->