​Howes Launches New Brand Platform Tested. Trusted. Guaranteed.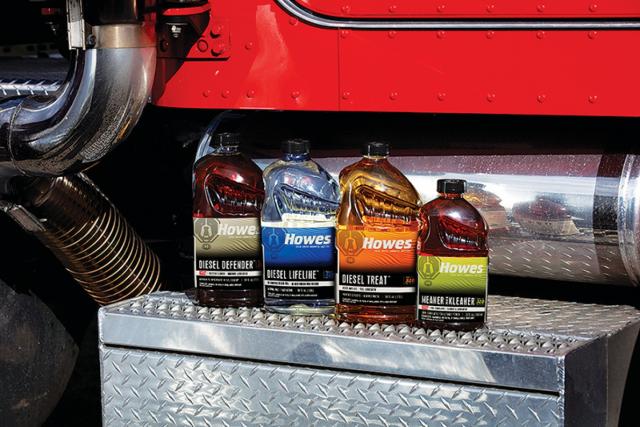 NORTH KINGSTOWN, RI - Howes is rolling out a brand-new look! For nearly a century, Howes has provided its customers with the highest quality additives that always keep up with changing fuels, engines, and injector systems. Now, they are updating their look to match. The new brand look is centered around clarity and improved messaging, making it easier for customers to quickly grab the Howes product that best suits their needs. Unique and creative, the Howes brand platform will flow from the packaging on shelf all the way through to its new, easy to navigate website that will be launching in early March.
The new brand initiative has been spearheaded by a new Howes employee, VP of Marketing, Phil Colacchio. "The Howes family was ready to shake things up. Joining the team and helping to improve customer satisfaction has been a wonderful opportunity, and an effort that we are intent on continually improving. We're thrilled with our new brand look and how it clearly identifies each individual product and communicates what each product does and how to use them," said Phil. "By using distinct colors to differentiate the products and helpful icons to point out their features and benefits, the new branding offers a very simple purchasing experience."
Best known for its flagship product - Howes Diesel Treat, the nation's number one selling anti-gel, Howes offers a complete line of additives and lubricants for diesel fuel, gasoline, and even oil. "We want our customers to know that we are more than just a winter additive company and that we offer the best performing products for all of your additive needs," stated Robert Howes, President. "Products that work in trucks, tractors, RV's and even home heating oil. Plus, we still carry my great grandfather's original secret formula; a Multi-Purpose Lubricating and Penetrating Oil that, to this day, surpasses all other products in its class. In short, we make the most reliable performance fluids for moving parts and vehicles and we want to help you easily find the one that you need when you need it."
The new branding effort brings more than just a new visual identity for Howes. It highlights the family's core values and culture. For many years, Howes has used the tagline, "Professional Grade Performance Since 1920." While its products continue to hold true to this sentiment, the company is now aiming to streamline the message of who they are and share their core values by which they operate. With its new tagline, "Tested. Trusted. Guaranteed.", they've done just that, speaking to the family's steadfast commitment to make the absolute highest performing products that customers can confidently rely on. Accompanying the new brand effort, Howes has chosen to help portray its identity through a new St. Bernard logo which will serve as the new brand mark and represent the strength, loyalty, dependability and trust that form the foundation of the company.
Never releasing a product that they are not completely satisfied with, Howes tirelessly tests and tests again, until every product they make is proven safe and effective. "All of our products are safe to use and contain absolutely no alcohol or harmful solvents. Our products are tested in and out of the lab by experts, by us personally, as well as by our customers," said Rob Howes II, VP of Strategic Development. "We refuse to release any product that is merely average, we strive for excellence. If it's a Howes product, it's a reliable product. We make sure of it. You don't even have to take our word for it. Ask a friend, ask a colleague, ask anyone who has used it and they'll tell you, this stuff works."
As a fifth generation, family owned and operated company, Howes is committed to providing its customers with not only the best products, but with the ultimate in industry knowledge and customer service. "This is not just a business to us. This is our legacy," stated Deb Howes, company Co-Owner. "This is our family, and that extends beyond our office doors to our employees, our distributors, our customers - they are all family to us. Their success is our success and vice versa. That's why we put 100% into every product we make, and why we stand behind each one whole heartedly."
Howes earns trust not by just the superior products they put out, but by really being there when they are needed. "We answer our phones when someone calls, you aren't greeted by machines and recordings," commented Erika Howes, VP of Business Development. "We are out in the field, we are talking face to face with people and we listen to what they have to say. We are always looking to learn all we can about people's needs. It's one of the things that make this change so exciting. We saw that our customers needed more, and in our commitment to excellence, we're dedicated to giving them just that."
One thing Howes has never strayed from are their iron clad guarantees. "When you offer the best products, you can offer the best guarantees as well," added Rob Howes II. "We offer our Free Tow Guarantee when you use our Diesel Treat, because we are that sure it works each and every time. Our users know, You Go or We Pay the Tow." In addition, Howes offers a no hassle, 100% money back guarantee on every product they release. Delivering maximum performance and efficiency to thousands of drivers and hard-working people everywhere is an unwavering goal at Howes, and it shows in its new brand platform.
The Howes look may be changing, but Howes products continue to be Tested. Trusted. Guaranteed.