How To Save On Insurance Costs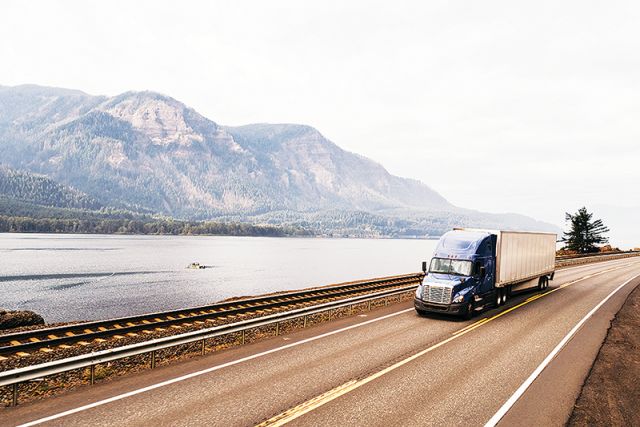 MAYFIELD VILLAGE, OH…  Peter Niro, Truck Product Development Manager for Progressive Insurance, has some tips to save money on insurance premiums.
First and foremost, a pattern of safe driving is what is going to save truck owners money.  Owner-operators and carriers with the best safety records are going to save on their premiums.
Today's ELD mandate has enabled commercial insurance providers to assess risks more comprehensively.  In 2018, Progressive launched a telematics based program for owner-operators and carriers called "Smart Haul".  Smart Haul uses the truck's ELD device to share driving data with Progressive, and customers can get a 5% discount just for enrolling. Safe drivers can qualify for a discount of up to 18%. Progressive customers that enroll in Smart Haul save an average of  $1,106.00 annually on the initial policy term.
For drivers that don't require an ELD in their truck, Progressive will send them a free device when enrolling in the "Snapshot ProView" program, a voluntary telematics-based insurance and fleet management program for business owners.  At enrollment, every customer who signs up for Snapshot ProView saves a minimum of 5% on their Progressive auto policy, with savings up to 18% annually.  Snapshot ProView also provides monthly emails to the driver with personalized safety insights to encourage safer driving. For companies with 3 or more vehicles, Progressive offers a free Vehicle Management Dashboard with near real-time trip tracking by GPS with a geo fencing feature.
At renewal, Progressive reviews the last 90 days of driving behavior and provides the corresponding discount they have earned with Smart Haul or Snapshot Proview.  .
No matter what truck insurer you choose, here are a few guidelines:
•Look for a company that is well established, with an "A" rating from AM Best
•You want an insurance carrier that is easy to work with, especially when it comes to claims
•You will want an insurance carrier that has experience in commercial insurance and that strives to keep downtime to a minimum during a claim
•As a truck could be potentially anywhere in the country when an accident occurs, you will want an insurance carrier with a nationwide adjustment process.
•You will also want a company that understands commercial insurance and can offer the insurance you need. As you know, trucking is not a "one size fits all business!"
There is a reason that Progressive Insurance has been named the #1 Truck Insurer  and #1 Commercial Auto Insurer in the nation – they have designed policies specifically for the transportation industry and help carriers and owner-operators meet their insurance needs to successfully run their business.  Whether you have one truck or 20 trucks, authority or no authority, Progressive has a policy to fit your needs.  The company has the ability to adjust policy changes as you grow and allows you to issue proof of insurance certificates instantly with its mobile app.  Progressive also offers customers flexible premium payment plans.
With a network of over 100 authorized repair centers, Progressive is ready to help customers process claims quickly.  Policy holders can use  Progressive's mobile app to assess the damage and to begin the claim process.  Progressive will even pay for a tow to the nearest repair center in the event of a covered physical damage claim, and this is when it is handy to have rental or rental with downtime insurance on your policy.  Some value added coverage Progressive provides is up to $25,000 for cargo cleanup, up to $10,000 in earned freight (load delivery) and $5,000 in business equipment insurance (electronics) for customers that purchase Motor Truck Cargo.  Some physical damage claims could involve up to 3 separate deductibles - one for the truck, one for the trailer, and another for the cargo.  Progressive offers a combined single deductible so that only the highest applicable deductible is paid in that scenario.  With Progressive's Financed Value Coverage, in the event of a total loss, they will pay the actual cash value of the vehicle or the outstanding loan obligation for the vehicle – whichever is higher – up to the stated amount.  All customers also receive pet injury coverage of up to $1,000.00.
For owner-operators, Progressive offers the insurance you need to operate.  For carriers, Progressive can insure all of your drivers.  The experts at Progressive will also manage your claim from start to finish, expediting claim service to get you back on the road as fast as possible.  As Peter Niro said, "With Progressive you will spend less time thinking about insurance and more time driving."
For more information, visit www.progressivecommercial.com, or call 1-888-806-9598 or a local agent appointed with Progressive.