COPS AND TURNPIKES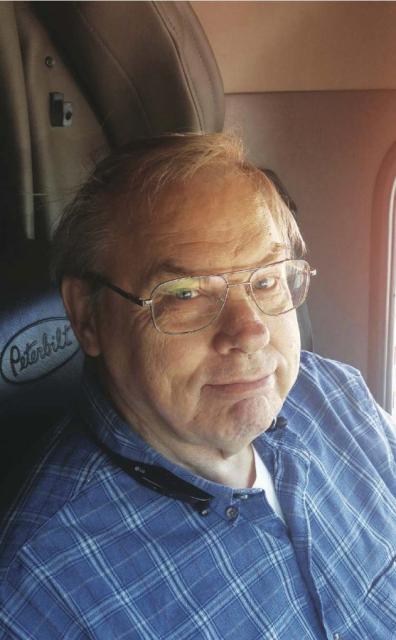 Traveling east across the New York Thruway several miles from Newburgh, I saw a state police cruiser stopped on the right-side shoulder. The blue lights were flashing and, as always, I eased over to the left lane, watching intently for the officer. I didn't see one, and there was no one else around either.

Suddenly very concerned, realizing the squad car was unmanned, I pulled over a hundred feet in front of the cruiser. All kinds of images ran through my mind as I ran back down the shoulder. Was the officer hurt? Kidnapped? Dead?
I tried to be careful, as I approached the cruiser, not to step on possible evidence or miss anything that might have been in the ditch. There was nothing. Peering into the car, I could clearly see it was unoccupied, and the engine was still running. Looking past the unit, and across the field, I could nothing amiss there either.
With a sense of dread, I looked under the car, and was relieved to see just daylight. But the mystery was getting to me. What could possibly have happened? Why was the cruiser running? My good sense was telling me to leave, but curiosity won the war of conscience.
Suddenly I spied a turnpike authority truck approaching, and decided to flag it down. The crew in the truck became concerned as I was, but they had something I didn't—a radio. Calling their office on the open state frequency, they broadcast our worries across the entire district, and within a minute there was a county sheriff's deputy on the scene.
But something was out of place with him too, because he had a passenger wearing a blue state police uniform, with a contrasting red face. It was, after all, his squad car I had painstakingly worried about. It seems he had made a routine traffic stop, but then locked himself out of his own cruiser.
The good news was, he had a portable radio, so he called for a sheriff's unit, who picked him up and transported the trooper to the local state police barracks. There he was able to get a set of spare keys and, without anyone noticing, return to the scene of his lockout. No one noticed, that is, until his predicament was broadcast all across the state radio network.
We all had a laugh at his expense, then parted ways with wry smiles and firm handshakes.
Years later, hauling an oversize load, I set off the over-height alarm on a Kansas turnpike. I chose to ignore it. The Kansas Highway Patrol did not, pulling me over just a few minutes later. Polite but firm, the trooper checked my load height and pronounced it illegal.
But he was fair and asked if my truck was capable climbing the embankment next to an overpass. If it is, he said, you can get take that county road and not get a fine. It is capable, I assured him, but then asked this question: where does that county road go? His polite but firm answer was direct and to the point;
"I don't know, and I don't care!" he said.
Law enforcement is a challenging and dangerous profession even on the best of days. Yet they're on the job, (and shoulder of a turnpike), doing a job most of us can't. What we can do is our part to keep them safe. I'm glad to be a part of moments that!
THOUGHT FOR THE DAY: Do dogs see police canines and think, "Oh no, it's the cops!"
You can reach Roger at [email protected]
<!-- /* Font Definitions */ @font-face {font-family:"Cambria Math"; panose-1:2 4 5 3 5 4 6 3 2 4; mso-font-charset:0; mso-generic-font-family:roman; mso-font-pitch:variable; mso-font-signature:-536870145 1107305727 0 0 415 0;} @font-face {font-family:Calibri; panose-1:2 15 5 2 2 2 4 3 2 4; mso-font-charset:0; mso-generic-font-family:swiss; mso-font-pitch:variable; mso-font-signature:-536859905 -1073732485 9 0 511 0;} @font-face {font-family:"ITC Clearface"; panose-1:2 11 6 4 2 2 2 2 2 4; mso-font-alt:Calibri; mso-font-charset:0; mso-generic-font-family:auto; mso-font-format:other; mso-font-pitch:variable; mso-font-signature:3 0 0 0 1 0;} @font-face {font-family:"Lithos Pro Black"; panose-1:2 11 6 4 2 2 2 2 2 4; mso-font-alt:Calibri; mso-font-charset:77; mso-generic-font-family:decorative; mso-font-pitch:variable; mso-font-signature:135 0 0 0 155 0;} /* Style Definitions */ p.MsoNormal, li.MsoNormal, div.MsoNormal {mso-style-unhide:no; mso-style-qformat:yes; mso-style-parent:""; margin-top:0in; margin-right:0in; margin-bottom:8.0pt; margin-left:0in; line-height:107%; mso-pagination:widow-orphan; font-size:11.0pt; font-family:"Calibri",sans-serif; mso-ascii-font-family:Calibri; mso-ascii-theme-font:minor-latin; mso-fareast-font-family:Calibri; mso-fareast-theme-font:minor-latin; mso-hansi-font-family:Calibri; mso-hansi-theme-font:minor-latin; mso-bidi-font-family:"Times New Roman"; mso-bidi-theme-font:minor-bidi;} p.MsoNoSpacing, li.MsoNoSpacing, div.MsoNoSpacing {mso-style-priority:1; mso-style-unhide:no; mso-style-qformat:yes; mso-style-parent:""; margin:0in; margin-bottom:.0001pt; mso-pagination:widow-orphan; font-size:11.0pt; font-family:"Calibri",sans-serif; mso-ascii-font-family:Calibri; mso-ascii-theme-font:minor-latin; mso-fareast-font-family:Calibri; mso-fareast-theme-font:minor-latin; mso-hansi-font-family:Calibri; mso-hansi-theme-font:minor-latin; mso-bidi-font-family:"Times New Roman"; mso-bidi-theme-font:minor-bidi;} .MsoChpDefault {mso-style-type:export-only; mso-default-props:yes; font-size:11.0pt; mso-ansi-font-size:11.0pt; mso-bidi-font-size:11.0pt; font-family:"Calibri",sans-serif; mso-ascii-font-family:Calibri; mso-ascii-theme-font:minor-latin; mso-fareast-font-family:Calibri; mso-fareast-theme-font:minor-latin; mso-hansi-font-family:Calibri; mso-hansi-theme-font:minor-latin; mso-bidi-font-family:"Times New Roman"; mso-bidi-theme-font:minor-bidi;} .MsoPapDefault {mso-style-type:export-only; margin-bottom:8.0pt; line-height:107%;} @page WordSection1 {size:8.5in 11.0in; margin:1.0in 1.0in 1.0in 1.0in; mso-header-margin:.5in; mso-footer-margin:.5in; mso-paper-source:0;} div.WordSection1 {page:WordSection1;} -->