ATA Crowns National Truck Driving Champions - UPS Driver Gragg Wilson From Nevada Earned The Prestigious Grand Champion Title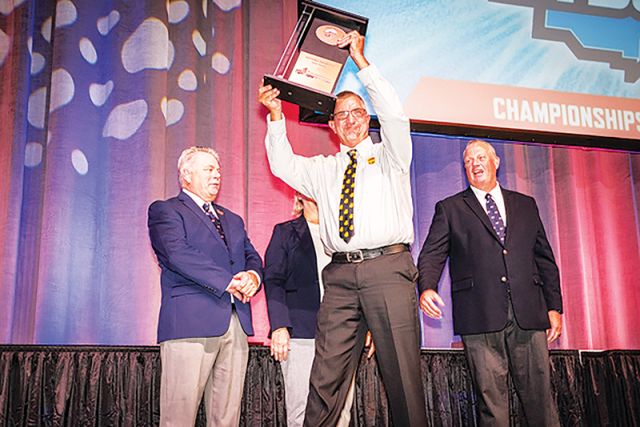 Columbus, OH… The American Trucking Associations announced that James Gragg Wilson of Nevada, a professional driver for United Parcel Service, was named the Bendix Grand Champion of the 2023 National Truck Driving Championships. The competition took place Aug. 16-19 at the Greater Columbus Convention Center.
Gragg Wilson
"Gragg delivered a flawless performance to take home our industry's top prize and earn the title of Grand Champion," said ATA President and CEO Chris Spear. "This accomplishment epitomizes his entire career, with 37 years and more than 2.5 million miles of accident-free driving." 
"All of the professional drivers who competed this week are phenomenal ambassadors for our industry. They are shining examples of highway safety, and their commitment to excellence makes us proud," Spear said. 
Known as the "Super Bowl of Safety," this annual event dates back to 1937. This year's competitors accumulated more than 643 million accident-free miles in their professional driving careers.
To clinch the esteemed title of 2023 Bendix Grand Champion, Wilson's driving accuracy and knowledge of truck safety was scored the highest of 418 state champion professional truck drivers from 49 states competing in all vehicle classes this week.  
Wilson, who competed in the tank truck division, has been a professional truck driver for 37 years and has driven more than 2.5 million accident-free miles. He has previously won the Nevada State Championship 13 times in six different classes, and he has also won Grand Champion five times in the State of Nevada. Wilson was the 2019 Nevada Driver of the Year.
ATA also recognized Myron Means of Wyoming, a professional driver for Old Dominion Freight Line, as the 2023 Rookie of the Year. Additionally, the team of drivers from Connecticut produced the best collective score and were honored as the top state delegation.
Professionalism and dedication to the trucking industry were key themes during the National Truck Driving Championships. Ina Daly of Arizona, a professional driver for XPO Logistics, was honored during the awards banquet with the Neill Darmstadter Professional Excellence Award. Bill Graham was chosen as the Lifetime Volunteer Award recipient.
"Congratulations to Grand Champion Gragg and the rest of the 2023 champions. These drivers devote an enormous amount of time preparing for this competition, and the awards reflect the extraordinary dedication and commitment to safety that they bring to their jobs every day," said Dan Van Alstine, Chairman of ATA and President and COO of Ruan Transportation Management Systems.  "I would also like to thank the staff and volunteers for organizing this week's event. Their efforts were instrumental to once again making NTDC a big success."
Since 2011, Bendix Commercial Vehicle Systems has been the sole sponsor of the Bendix National Truck Driving Championships Grand Champion.
Champions from each of the nine vehicle classes were also announced. The full list of champions and top finishers is below::
Step Van: 1. Jerome De La Cruz, FedEx Express, Alaska; 2. Gregory Long, FedEx Express Maryland; 3. Alex Lofgren, FedEx Express Minnesota
Straight Truck: 1. David Coffel, FedEx Express, Arizona; 2. William Colantuone, FedEx Express, Massachusetts; 3. James Kohr, FedEx Express, New York
3-Axle: 1. Barry Kraemer, XPO, Wisconsin; 2. Joseph Hicks, XPO, Rhode Island; 3. Ritch Fundell, FedEx Freight, Illinois
4-Axle: 1. Martin McMahon, RIST Transport, New York; 2. Bruce Quaal, ABF Freight System, Inc. Minnesota; 3. Adam Heim, FedEx Freight, Idaho
5-Axle: 1. John Greene, FedEx Freight, Connecticut; 2. James Quarles, Wal-Mart Transportation, LLC South Carolina; 3. Michael Martin, Wal-Mart Transportation, LLC
Flatbed: 1. Daryl Miller, The Cope Company Salt, Pennsylvania; 2. Ernest Wagers, Old Dominion Freight Line, Inc., Kentucky; 3. James Sowder, FedEx Freight, Tennessee
Tank Truck: 1. James "Gragg" Wilson, United Parcel Service, Inc., Nevada; 2. Jason Imhoff, Wal-Mart Transportation, LLC, Ohio; 3. Timothy Vogt, XPO, Georgia
Twins: 1. Robert Fair, FedEx Freight, New Hampshire; 2. Jeffrey Langenhahn, XPO Wisconsin; 3. Michael Flippin, FedEx Freight, Colorado
Sleeper Berth: 1. Roland Bolduc, FedEx Express, Connecticut; 2. Chris Moore, Wal-Mart Transportation, LLC, Georgia; 3. Tyler Rogers, FedEx Freight, Colorado
Other Awards
Rookie of the Year: * Myron Means, Old Dominion Freight Line, Inc., Flatbed, Wyoming
State Team Award: 1. Connecticut; 2. Illinois; 3. Tennessee
Vehicle Condition Award: * Timothy Blair, FedEx Freight, 5-Axle, Tennessee
Highest Written Exam Award: 1. Michael Bills, FedEx Express, North Carolina; 2. David Comings, FedEx Freight, North Dakota; 3. David Mogler, FedEx Freight, Colorado; 4. Michael Flippin, FedEx Freight, Colorado
Neill Darmstadter Professional Excellence Award: * Ina Daly, XPO Logistics, Arizona
Lifetime Volunteer Award: * Bill Graham
The corporate sponsors of the 2023 National Truck Driving Championships include:
Platinum: * Amazon Freight Partner; * Fed Ex; * Fed Ex Express; * Fed Ex Freight; * Fed Ex Ground; * Yellow
Gold: * ABF Freight; * DHL; * Old Dominion Freight Line; * PrePass; * United Parcel Service; * WalMart-Transportation; * XPO
Silver: * U.S. Department of Transportation Federal Motor Carrier Administration; * PITT OHIO