Afro American Truckers Association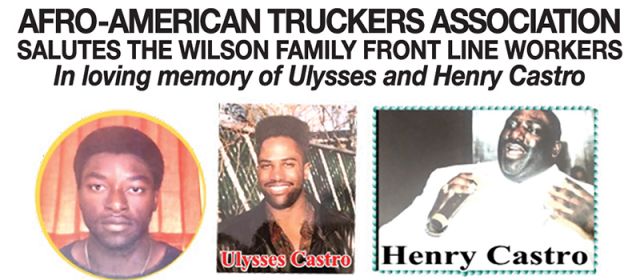 I am a proud second generation progressive thinking and acting Afro-American trucker and the founding member of the Afro-American Truckers Association (AATA).  Who come from a large family of extremely committed and high-performing Commercial Motor Vehicle Operators. This veteran OTR driver witnessed first-hand the high level of dedication and heroic actions of many hard-working, underpaid and underappreciated drivers.  For transporting heavier time-sensitive loads of potentially dangerous and hazardous cargo at high speed.  Through increasingly congested high stress traffic corridors and work zones with little margin for error on some of the most dilapidated and structurally deficient roads, bridges and interstate highways in the US.  I know and understand very well the integral role that trucking plays in our everyday lives.  Finally, the Coronavirus (Covid-19) outbreak is rushing the long neglected hot button issues of US truckers to the forefront of national attention.  On a communal level the deadly pandemic is also exposing the multitude of underlying conditions that is plaquing the growing number of young fighting mad Afro-American truckers, their families and communities has been grossly underreported.  Unfortunatelythese pre-existing structural impediments have been elevated near crisis proportions in Afro-American communities long before the invasion of Covid-19.  Afro-American communities have been pulverized and suffering the hardest hit from Covid-19 at an enormous high rate disproportionately.
Personally the tragic loss of my two cousins Ulysses and Henry Castro to Covid-19 at ground zero in New York dealt a strong combination of gut wrenching blows to our whole family.  Ulysses and Henry were two highly intelligent and hardworking young father figures who value their children, friends and community immensely.  I want to lift up the Castro brothers along with their very loving Mother Mariah Castro and the entire Castro family.  In addition to expressing public support for all the Wilson family essential frontline workers amid one the most challenging times of our lives.  Nathan Wilson, Derrick Wilson, John L. Wilson 3rd, Marco Wilson, Frank Wilson, Pinell James and Napoleon McAlpine have risen to the occasion, made tremendous sacrifices and drove the extra mile during the economic shutdown.  By working around the clock far from their families and comforts of their homes to deliver vital life sustaining food products, medical supplies, and manufacturing materials to customers throughout the US, Canada and Mexico. Locally this elite cadre of courageous drivers continue to roll out at great risk to their own safety and well being to combat Covid-19, flatten the curve and help save lives.  Bu ensuring hospitals, nursing homes and other healthcare related industries receive critical on time shipments of ventilators, surgical masks, hand sanitizer and PPE equipment.
Afro-American trucks number #1 complaint during the shutdown is just overall bad working conditions across the board.  Which include severe lack of parking, maintenance facilities, rest havens and truck specific support system in their communities.  The AATA is fighting hard to help change these deplorable conditions in Alabama.  By building mass media support to help attract more truck driver training schools, truck support systems and a plethora of full service mega size Pilot Flying J Travel Centers to Birmingham, Huntsville, Opelika, and Demopolis immediately.  Certainly these key financial investments and new infrastructural development projects will have a positive three fold economic impact.  First these new community basedacquisitions will boost employment of Afro-Americans and help revitalize the economy of vastly underserved and underfunded communities statewide.  Second, these pro-trucking amenities will also provide more urgently needed parking, new job opportunities and more on-site maintenance and lodging facilities in depressed inner city areas.  Third, this new AATA sponsored pro-growth trucking initiative will also go a long way to enhance training and capability, provide greater access, upward mobility and market share for Afro-Americans.  Through target investment and real economic empowerment of inner city youths moving forward during and post Covid-19 exponentially.
Shakir Muhammad is a writer, veteran OTR driver and a leading member of the Afro-American Truckers Association.