​2020 Shell Rotella® SuperRigs® Calendar is Available to be Ordered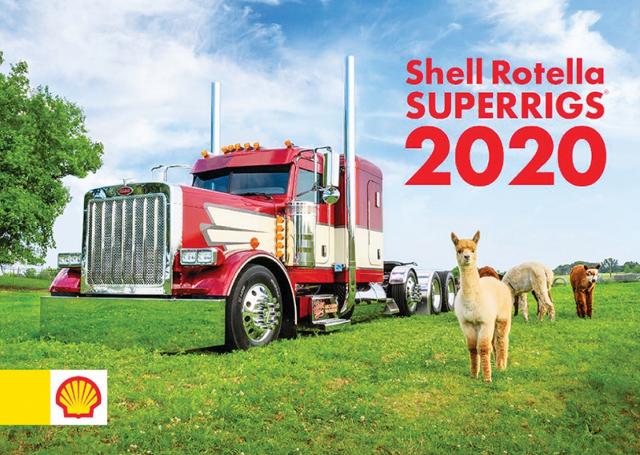 The 2020 Shell Rotella® SuperRigs® calendar is now available to be ordered online. The calendar tells the story of 12 hardworking drivers who travelled to Trail's Travel Center in Albert Lea, Minn. to participate in the annual truck contest. Some highlights of the Rotella® SuperRigs® calendar which was photographed near Albert Lea include:
MARCH – Justin Durand from Rapid City, South Dakota followed in the footsteps of his father and great-grandfather and now brings his son Matthew on the road with him in his 2018 Peterbilt 389.
JUNE – Gary Jones Jr. and his wife Devery from Lawson, Mo. enjoy the opportunity to spend time together traveling across the country hauling over-size loads in their 1999 Peterbilt 379 called Excessive Behavior II.
OCTOBER –Theresa Desantis from Apache Junction, Ariz. won Best of Show at Shell Rotella SuperRigs with her 1985 Peterbilt 359 which is called The Witches Inn. Desantis and her driver husband began customizing the truck in 2009.
The Shell Rotella® SuperRigs® competition is the premier truck beauty contest for actively working trucks. Hard working owner/operator truckers from across the United States and Canada compete annually for more than $25,000 in cash and prizes.
For more information about Shell Rotella® engine oils visit Rotella.com. To stay up-to-date on the latest news from Shell Rotella, 'Like' Shell Rotella on Facebook (Facebook.com/ShellRotella) and follow Shell Rotella on Twitter (Twitter.com/ShellRotellaTwitter.com/ShellRotella) on Instagram @ShellRotellaT.