​Truckers Solution – Expanding Services For Their Members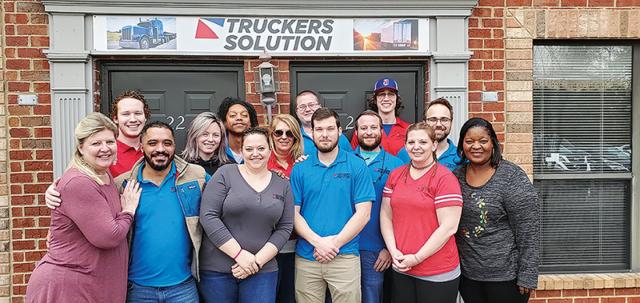 FRANKLIN, TN…. Truckers Solution is an organization for Owner-Operators and Small Fleet Owners that gets them discounts on the goods and services they use every day, including fuel, tires, factoring, insurance and pre-paid legal services. There is no membership fee.

The way Truckers Solution works is to use the collective purchasing volume of their members to receive discounts from suppliers, just like large fleets. Truckers Solution has been so successful that they have been growing steadily in staff and membership since they were founded in 2011. The company added 5 new employees in 2018.
Since all trucking operations are different, Truckers Solutions is focused on providing custom solutions for today's drivers as well as expanding services for their members. The newest service they offer is pre-paid legal service through TVC Pro-Driver. TVC Pro-Driver is a legal network to help truckers fight tickets they didn't deserve. The company has an impressive 92% dismissal rate and Truckers Solution members can join at a discounted rate.
Truckers Solution has also added two new insurance agents to their network, which is now licensed in all 48 states. By using multiple agencies that shop insurance providers, Truckers Solution can find the best fit and price, including insurance brokers who will find insurance policies for owner-operators just starting up.
Truckers Solution is also partnering with a factoring broker who searches multiple factoring companies to find the right fit for members' business. The rates are often times 3% or less.
Since diesel fuel still remains the largest single expense of the trucking industry, it is also a key focal point for Truckers Solution. Using a Truckers Solution fuel card, drivers can receive fuel discounts starting at 10¢ per gallon at all Pilot and Flying J locations. Whether you have no credit, poor credit or great credit, the Truckers Solution fuel card is a tool to help drivers build their credit and help their business become solid and sustainable. As each individual's fuel purchases grow by bringing more volume to Pilot/Flying J, they become eligible for even greater discounts. The additional discounts are negotiated with Pilot and Flying J reps and drivers are advised to work through Truckers Solution to obtain them. Credit limits on the Truckers Solution fuel card are based on each individual member's needs. They still offer discounts through other fuel cards at Pilot/Flying J, including T-Check, EFS, ComData, Multiservice and QuikQ.
Tires are another large expense for truckers. Truckers Solution has negotiated discounts of up to 35% on all tire brands offered by Michelin. Discounts are also available for road service and tire related services.
Here is what a couple of Truckers Solution members have to say about the organization:
"My name is Crystal Lewis. My husband Robert Lewis and I own RL Trucking LLC, a small family owned business out of Romney, West Virginia.
One year ago, we turn to Truckers Solution for help so we could expand our business. We started out with two trucks and one year later we were able to expand to nine trucks within one year. Each and every one that works for Truckers Solution has helped our company grow into a small fleet. So, if you are looking for a fuel card to expand your business, these are the people to come and talk to. This company is a very good company to work with and they are on top of what you need to do your business. Come and join Truckers Solution, you won't regret it."
"I cannot say enough about the customer service that Truckers Solution offers all of us. I am a 1 truck owner, but Trucker Solutions treats me like I own 20,000 trucks.
No one in the trucking industry can outdo them in customer service."- Adam Stringer, Stringer Motor Express.
So, what are YOU waiting for? Join today and start saving! Membership is free. For more information, log onto www.truckersolution.com or call 855-241-6001.
Photo caption:
Front row (left to right): Vickie, Melvin, Kelly, Matt, Adriene, Faye . Back row (left to right): Chase, Laura Beth, James, Paula, Michael, Danny, Alex, Ben. Not pictured: Mike, Ron, Josh, Kyle, Philip and Sean
<!-- /* Font Definitions */ @font-face {font-family:"Cambria Math"; panose-1:2 4 5 3 5 4 6 3 2 4; mso-font-charset:0; mso-generic-font-family:roman; mso-font-pitch:variable; mso-font-signature:-536870145 1107305727 0 0 415 0;} @font-face {font-family:Calibri; panose-1:2 15 5 2 2 2 4 3 2 4; mso-font-charset:0; mso-generic-font-family:swiss; mso-font-pitch:variable; mso-font-signature:-536859905 -1073732485 9 0 511 0;} @font-face {font-family:"ITC Clearface Black"; panose-1:2 11 6 4 2 2 2 2 2 4; mso-font-alt:Calibri; mso-font-charset:0; mso-generic-font-family:auto; mso-font-format:other; mso-font-pitch:variable; mso-font-signature:3 0 0 0 1 0;} @font-face {font-family:"ITC Clearface"; panose-1:2 11 6 4 2 2 2 2 2 4; mso-font-alt:Calibri; mso-font-charset:0; mso-generic-font-family:auto; mso-font-format:other; mso-font-pitch:variable; mso-font-signature:3 0 0 0 1 0;} @font-face {font-family:"ITC Clearface Heavy"; panose-1:2 11 6 4 2 2 2 2 2 4; mso-font-alt:Calibri; mso-font-charset:0; mso-generic-font-family:auto; mso-font-pitch:variable; mso-font-signature:3 0 0 0 1 0;} /* Style Definitions */ p.MsoNormal, li.MsoNormal, div.MsoNormal {mso-style-unhide:no; mso-style-qformat:yes; mso-style-parent:""; margin:0in; margin-bottom:.0001pt; mso-pagination:widow-orphan; font-size:12.0pt; font-family:"Calibri",sans-serif; mso-ascii-font-family:Calibri; mso-ascii-theme-font:minor-latin; mso-fareast-font-family:Calibri; mso-fareast-theme-font:minor-latin; mso-hansi-font-family:Calibri; mso-hansi-theme-font:minor-latin; mso-bidi-font-family:"Times New Roman"; mso-bidi-theme-font:minor-bidi;} h2 {mso-style-priority:9; mso-style-unhide:no; mso-style-qformat:yes; mso-style-link:"Heading 2 Char"; mso-margin-top-alt:auto; margin-right:0in; mso-margin-bottom-alt:auto; margin-left:0in; mso-pagination:widow-orphan; mso-outline-level:2; font-size:18.0pt; font-family:"Times New Roman",serif; mso-fareast-font-family:"Times New Roman";} a:link, span.MsoHyperlink {mso-style-priority:99; color:#0563C1; mso-themecolor:hyperlink; text-decoration:underline; text-underline:single;} a:visited, span.MsoHyperlinkFollowed {mso-style-noshow:yes; mso-style-priority:99; color:#954F72; mso-themecolor:followedhyperlink; text-decoration:underline; text-underline:single;} span.Heading2Char {mso-style-name:"Heading 2 Char"; mso-style-priority:9; mso-style-unhide:no; mso-style-locked:yes; mso-style-link:"Heading 2"; mso-ansi-font-size:18.0pt; mso-bidi-font-size:18.0pt; font-family:"Times New Roman",serif; mso-ascii-font-family:"Times New Roman"; mso-fareast-font-family:"Times New Roman"; mso-hansi-font-family:"Times New Roman"; mso-bidi-font-family:"Times New Roman"; font-weight:bold;} span.apple-converted-space {mso-style-name:apple-converted-space; mso-style-unhide:no;} .MsoChpDefault {mso-style-type:export-only; mso-default-props:yes; font-family:"Calibri",sans-serif; mso-ascii-font-family:Calibri; mso-ascii-theme-font:minor-latin; mso-fareast-font-family:Calibri; mso-fareast-theme-font:minor-latin; mso-hansi-font-family:Calibri; mso-hansi-theme-font:minor-latin; mso-bidi-font-family:"Times New Roman"; mso-bidi-theme-font:minor-bidi;} @page WordSection1 {size:8.5in 11.0in; margin:1.0in 1.0in 1.0in 1.0in; mso-header-margin:.5in; mso-footer-margin:.5in; mso-paper-source:0;} div.WordSection1 {page:WordSection1;} -->