"Truck Driving For Dummies"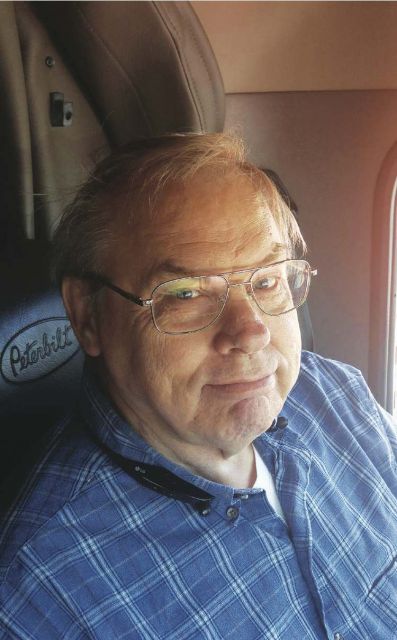 We were circling Yellowstone Park, awhile back, and my student driver was behind the wheel but ahead of his time. Stopped at a crosswalk, we were waiting for a pedestrian to reach the opposite curb.
"Hey, Mike!", I said quickly, "is that a guy, or a gal?"
"If you can't tell,", my co-driver responded dryly, "it don't matter!"
 A few years later, running team for the Christmas rush, we were somewhere on the Indiana Tollway when the new Highwaymaster telephone rang. And rang. And rang. But my co-driver wouldn't pick it up. 
"Answer the damn phone!", I hollered from the sleeper.
"But what do I say?", Buddy hollered back, to which I replied, "TRY HELLO!"
 Jimmy was a good old boy from east Texas, about 35 years old and thin as a whip, when our first trip together was also his first-time entering Canada. Stopping near Dorchester, Ontario for dinner, he insisted on paying for our supper.
"It's okay, Jim," I said, "I got this."
But he insisted, and I let him hand the cashier a twenty-dollar bill. When she handed back $24 in Canadian currency, factoring in the exchange rate, he looked at it in total disbelief. 
"What the F--- is this?", he stammered, until I could explain that Canada was their own country, with their own rules, and their very own currency. 
 A few years later, I was crossing the fuel island at the West Memphis Petro, and a driver walking past me suddenly turned and growled, "What's the matter, RC? Don't you know me?"
Turning to face my antagonist, I suddenly realized it was Jimmy, fifty pounds heavier, who had never met a cheeseburger he didn't like. He apparently never met a Kenworth that didn't suit him either, because he was one of two students who eventually became million-milers. I'll take some credit for that!
 Parked at the Oklahoma City T/A Truckstop one day, I watched in amazement as a driver climbed on top of the hood to clean his Peterbilt's windshield. Not only did it look dangerous, from my vantage point, it appeared to be a custom paint job on a race car hauler. My curiosity finally got the best of me, and I walked on over to talk with him. 
What I learned left me stunned. Turned out the paint scheme, which featured a Formula 1 race car on a Marlboro background, hid the fact that the trailer was a hospitality platform and lounge, not a car hauler. And the driver? Well, he wasn't really a driver, as we know them, but a bartender with a CDL who hadn't even been to a trucking school!
 Two students were running team across I-40 in Arkansas….no wait, it's not a joke, honest….and they made a Gentleman's Agreement. If one had to stop while the other was sleeping, they wouldn't set the brakes. Stopping at an elevated rest area near London, the driver jumped out to take care of bidness. While inside the building, his truck rolled down an embankment, coming to rest in a clump of trees.
One of the fuel tanks broke through the floor, drenching the sleeper, but luckily left the hapless co-driver uninjured. Meanwhile, the driver was just sauntering out the restroom door. About that time, he actually saw what happened, and immediately called dispatch to report the incident. 
"Have the authorities been notified, and is anyone hurt?", the dispatcher wanted to know, to which the driver responded, "No, but my partner is walking up the hill right now, and he looks really angry!"