​TA/Petro Raises Funds For TAT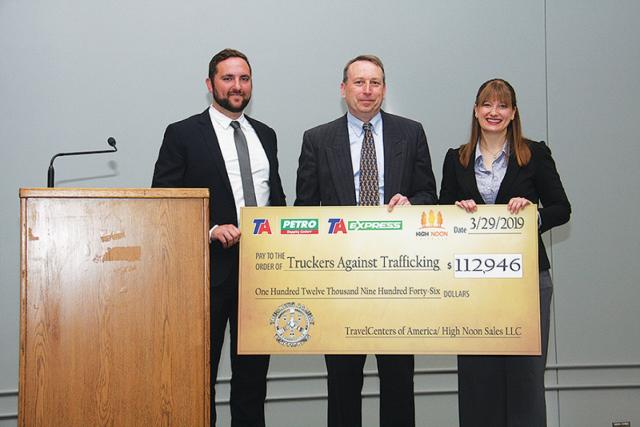 LOUISVILLE, KY… TA/Petro is the first travel plaza chain to raise funds to benefit Truckers Against Trafficking (TAT). The organization builds awareness and provides a hotline to combat human trafficking.

Because Professional Truck Drives are everywhere, the trucking industry is a first responder to human trafficking. Since its inception, Truckers Against Trafficking has received over 2,200 phone calls on their hotline.
TA/Petro partnered with High Noon Sales, which donated most of the merchandise that was used to raise money for TAT at TA/Petro Travel Plazas. A grand total of $112,946.00 was donated to Truckers Against Trafficking. The National Human Trafficking Resource Center's hotline phone number is 1-888-373-7888.
Photo caption: Left to right: Justin Hoffman, President at High Noon Sales; Tom Newbould, Sr. VP of Store Sales for TA/Petro; and Helen VanDam, Project Director for Truckers Against Trafficking.