​No Kitchen? No Problem! Hot Meals In 5 Minutes!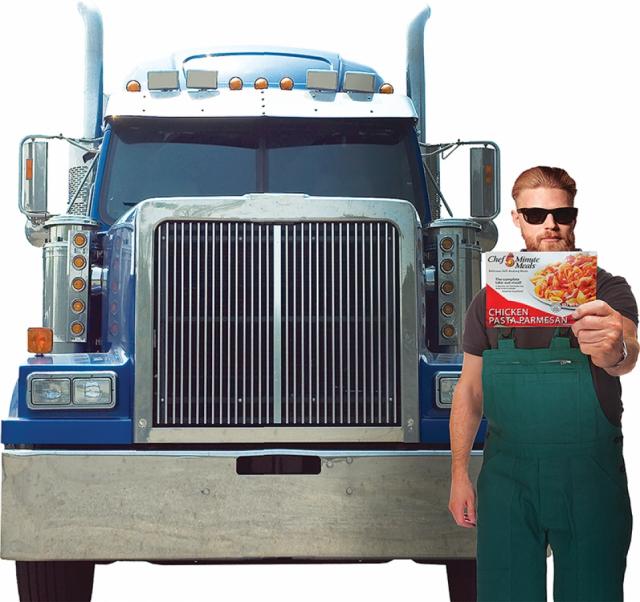 PINEY FLATS, TN… If you are tired of high caloric, non-nutritious fast or just don't have time to stop for a sit-down meal, Chef 5 Minute Meals is the solution to your dining dilemma. The company offers 8 different meals that self-heat in just 5 minutes using an innovative patent-pending heating system. No microwave, stove or hot water is needed. Chef 5 Minute Meals are prepared in a pressure-cooking system that eliminates 100% of food borne bacteria and, therefore, require no refrigeration and have a 3-year shelf life. The company plans to introduce a Mac and Cheese, and several other new meal selections in the near future.
Chef 5 Minute Meals is the brainchild of Chef Barry Sendel. All of the recipes are Barry's and made to his specifications. In 2005 Defense Logistics Agency (DLA), a US government agency that helps with natural disasters in the USA, tasked Chef 5 Minute Meals to supply some 5 million meals for the victims of the Katrina Hurricane. The company relocated from Canada to Piney Flats, Tennessee to accommodate future needs of DLA and has since become one of two prime suppliers to FEMA for natural disaster response. The criteria was simple – Chef 5 Minute Meals are nutritious high in protein and low in sodium and calories with no preservatives or additives. The meals contain 400-600 grams less sodium than most frozen meals. They have a 3-year shelf life and a patent-pending self-contained heating element in each meal kit. Most importantly, they taste great.
Chef 5 Minute Meals realized that their meals would be ideal for Professional Truck Drivers. The product provides a delicious and nutritious hot meal whenever they want one (Anytime Time, Anywhere!) enabling drivers to better manage their time and maximize their earnings. The meals are generally found reasonably priced at under $6.99 each.
Chef 5 Minute Meals are available in individual kits, cases containing 6 or 12 meals, and 72 hr. emergency kits that provide an economical 18 servings. Chef 5 Minute Meals are made in the USA. They are never freeze dried or dehydrated. You can choose from Chicken Cacciatore, Chicken Pasta Parmesan, Beef Chili with Beans, Spaghetti with Meatballs, Beef Stroganoff, Beef Stew, and Vegetable Lasagna.
Chef 5 Minute Meals puts the "fast" in breakfast with a Cheese Omelet with Beef Chili and Beans that is ready in just minutes. Also available for hot days are "Cool Meal Solutions" – Chicken Vegetable or Tuna Vegetable Salad, mixed with "real" mayonnaise in a kit that includes 2 whole wheat tortillas, 2 electrolyte beverages and a Grand Canyon Bar meal replacement bar. The Grand Canyon Bar is an energy bar with lots of sweet and nutritious honey.
Chef 5 Minute Meals can be ordered direct from www.chef5minutemeals.com or online at www.Amazon.com. The company is working towards setting up distributor partners in the Travel Plaza industry.
Over the past three years Chef 5 Minute Meals has donated over 250,000 meals to charities, churches, and homeless shelters to help feed the hungry.
If you would like to taste a Chef 5 Minute Meal, visit them at the Mid-America Trucking Show in Louisville, Kentucky in Booth #67193 in the West Wing. In advance of the show you can phone them at 855-926-0092 or 423-926-0092 for more information.
Their email address is: [email protected].
<!-- /* Font Definitions */ @font-face {font-family:"Cambria Math"; panose-1:2 4 5 3 5 4 6 3 2 4; mso-font-charset:0; mso-generic-font-family:roman; mso-font-pitch:variable; mso-font-signature:-536870145 1107305727 0 0 415 0;} @font-face {font-family:Calibri; panose-1:2 15 5 2 2 2 4 3 2 4; mso-font-charset:0; mso-generic-font-family:swiss; mso-font-pitch:variable; mso-font-signature:-536859905 -1073732485 9 0 511 0;} @font-face {font-family:"ITC Clearface Black"; panose-1:2 11 6 4 2 2 2 2 2 4; mso-font-alt:Calibri; mso-font-charset:0; mso-generic-font-family:auto; mso-font-format:other; mso-font-pitch:variable; mso-font-signature:3 0 0 0 1 0;} @font-face {font-family:"ITC Clearface"; panose-1:2 11 6 4 2 2 2 2 2 4; mso-font-alt:Calibri; mso-font-charset:0; mso-generic-font-family:auto; mso-font-format:other; mso-font-pitch:variable; mso-font-signature:3 0 0 0 1 0;} /* Style Definitions */ p.MsoNormal, li.MsoNormal, div.MsoNormal {mso-style-unhide:no; mso-style-qformat:yes; mso-style-parent:""; margin:0in; margin-bottom:.0001pt; mso-pagination:widow-orphan; font-size:12.0pt; font-family:"Calibri",sans-serif; mso-ascii-font-family:Calibri; mso-ascii-theme-font:minor-latin; mso-fareast-font-family:Calibri; mso-fareast-theme-font:minor-latin; mso-hansi-font-family:Calibri; mso-hansi-theme-font:minor-latin; mso-bidi-font-family:"Times New Roman"; mso-bidi-theme-font:minor-bidi;} a:link, span.MsoHyperlink {mso-style-priority:99; color:#0563C1; mso-themecolor:hyperlink; text-decoration:underline; text-underline:single;} a:visited, span.MsoHyperlinkFollowed {mso-style-noshow:yes; mso-style-priority:99; color:#954F72; mso-themecolor:followedhyperlink; text-decoration:underline; text-underline:single;} .MsoChpDefault {mso-style-type:export-only; mso-default-props:yes; font-family:"Calibri",sans-serif; mso-ascii-font-family:Calibri; mso-ascii-theme-font:minor-latin; mso-fareast-font-family:Calibri; mso-fareast-theme-font:minor-latin; mso-hansi-font-family:Calibri; mso-hansi-theme-font:minor-latin; mso-bidi-font-family:"Times New Roman"; mso-bidi-theme-font:minor-bidi;} @page WordSection1 {size:8.5in 11.0in; margin:1.0in 1.0in 1.0in 1.0in; mso-header-margin:.5in; mso-footer-margin:.5in; mso-paper-source:0;} div.WordSection1 {page:WordSection1;} -->