Nick Strimbu, Inc. Joins Safe Driver Apprentice Program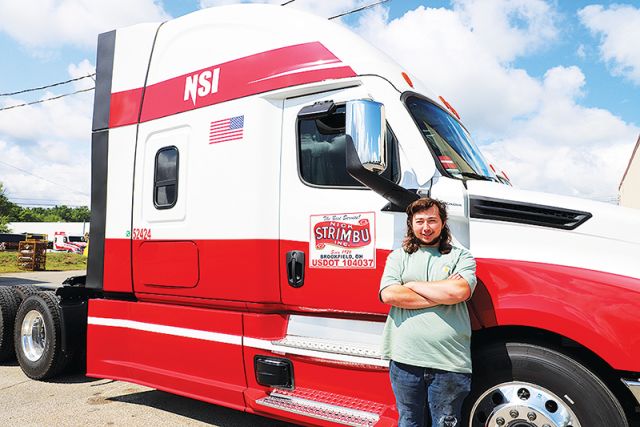 BROOKFIELD, OH…. Nick Strimbu, Inc. of Brookfield, Ohio is one of 17 carriers in the nation to be chosen to participate in a new pilot program sponsored by the FMCSA called "Safe Driver Apprentice Program" or SDAP.  Safe Driver Apprentice Program is for responsible 18, 19, and 20 year olds to begin their career as Professional Truck Drivers.
While the concept may seem controversial, remember these same 18, 19, and 20 years old men and women protect our Nation in uniform and in the process, operate complex weapon systems, sophisticated equipment, and machinery of all types.
Nick Strimbu, Inc. President Bill Strimbu said, "We are excited to participate in this pilot program, helping young drivers enter the trucking industry.  The bar is set high, but I am confident that there are many young men and women up to the challenge."
Participating carriers must meet the highest safety standards and be at or below the national average in all safety categories.  Nick Strimbu had to be approved by the Department of Labor and the FMCSA.  Apprentices and driver trainers must also meet enhanced safety standards and be approved by the FMCSA to qualify to participate in SDAP.  Nick Strimbu, Inc. currently has 5 driver trainers approved and is waiting for approval on their first apprentice applicant.
Some of the requirements for apprentices include:
•Apprentice must complete 120 hours of on-duty time with a driver trainer in the passenger seat, with 80 hours of driving time.
•The apprentice will then have a 280 hour probationary period that includes 280 hours of on-duty time, along with 160 hours of supervised driving time.
•400 hours on-duty and 240 hours of supervised driving time to graduate.
•Applicants must be competent at backing, close quarter maneuvering; pre-trip inspections; fueling procedures; weighing loads and weight distribution, including moving tandems, coupling, and un-coupling trailers; trip planning; truck routes; map reading; navigation; and permits.
Carriers are required to have enhanced safety equipment on board: On-Board Monitors; (forward and driving facing cameras; automatic or manual automatic transmissions; lane departure and active braking -collision mitigation systems.  The carrier must report safety data on the apprentice once a month to the FMCSA and can terminate the applicant at any time they [the carrier or FMCSA] deem them to be unsafe. The trucks have a governed speed of 65 with the cruise control and at the pedal.
Nick Strimbu Driver Recruiter and Retention Manager Tom Banks stated, "We are happy to help young drivers enter the industry.  We currently have several outreach programs, such as LIFT (Lifting Individuals For the Trades) for Mercer and Lawrence counties in Pennsylvania and Trumbull and Mahoning Counties in Ohio, as well as Troops to Trucks.  The SDAP program is a great enhancement."
Nick Strimbu, Inc. SDAP apprentices can expect to earn 65k to 75k their first year.  Nick Strimbu, Inc. pays $850 per week to apprentices during training.  You must live within 100 miles of Brookfield, Ohio.  To apply for the SDAP program, go to www.nickstrimbu.com or call Tom Banks at 330-448-4046, extension 124.
Nick Strimbu, Inc. was founded in 1926 and has been owned and operated by 4 generations of the Strimbu family.  For many years the company was a flatbed carrier, but diversified to refrigerated, dry van, and specialized flatbed in 2008 and 2009.
Nick Strimbu, Inc. was honored as one of the 2023 Best Fleets To Drive For Award by the Truckload Carriers Association (TCA).   Nick Strimbu, Inc. was one of only 20 fleets in the nation and among 165 finalists to be chosen for this prestigious award.  To receive the award a company must first be nominated by one of their drivers.  They then must complete an extensive questionnaire and undergo an interview.  The company's drivers are then surveyed to judge overall satisfaction with the company before they [the company] become a finalist for the award.