MATS, Copy Cats And Avoiding Major Highway Crashes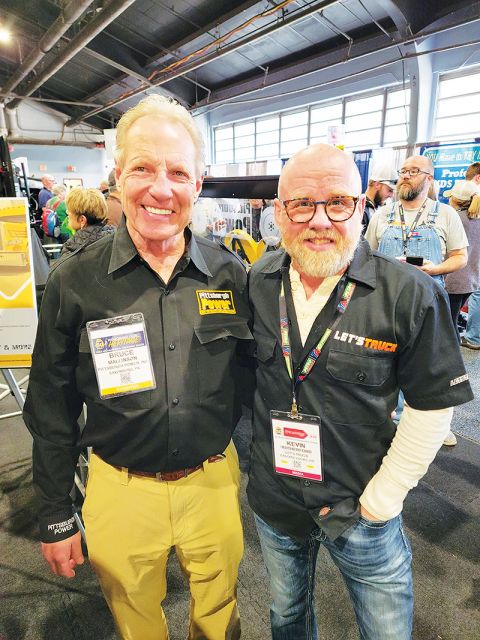 MATS 
It's been two years since the last Mid-America Trucking Show, and in that time, a lot has happened for Pittsburgh Power. Max mileage FBC has come forward leaps and bounds; we took over OPS (Oil Purifications System) and began manufacturing them in our shop, and we have partnered with DPF Alternatives to give our customers better options for their Aftertreatment system care. 
This show will be marked as my first since taking over the Marketing position, and I can honestly say that it was an enjoyable and educational experience. I was able to put names to faces, but I was also able to expand my horizons as a Pittsburgh Power employee and learn more about in-person customer interactions.
Day One: The first day came as somewhat of a shock to me, as we had not even fully set up yet, and customers had already found us and lined up to purchase. I knew that we were popular, but not much could prepare me for the next couple of days. Attendees would stand in line for the chance to speak with Bruce and get his advice or take a picture, all while my colleagues and I informed others of our main products. One of the main things that I took away from that day is the show's ability to allow new and old customers to express concerns or give suggestions on how we can better provide service. Our OPS Installer option has since been added to our website's dealer map because of this. 
Day Two: The second day was the busiest day of the week, partially because more attendees arrived and partly because our good friend Kevin Rutherford decided to hang out with us at our booth. Again, the popularity of these men struck me, and it got hard to know who wanted to speak with Kevin and Bruce and who was curious about our products. Needless to say, the day was very successful, and we were able to spread the word to many new and old customers alike.
We are looking forward to working with Kevin in the near future to expand the Power Hour to our solo show and spread more trucking knowledge to our followers. 
Day Three: With the third day being busy but not quite as chaotic as the day before, it allowed our team time to explore the floor and communicate with other vendors. in this little excursion, we came across a disturbing realization about our Max Mileage product. Certain vendors had started selling products with a disturbingly similar name to our brand. We had heard about this product before coming to the show, and we had even had some customers buying it by mistake, thinking they were buying a cheaper version of our product, but there is only one Max Mileage Catalyst.
Copy Cats
As our network of dealers and customers using Max Mileage grows, and we continue to get fantastic feedback from customers who are benefiting from using Pittsburgh Power's Max Mileage Catalyst, we still get the occasional customer who is disappointed because they mistakenly bought another product under a similar name and logo with a green label. This manufacturer was marketing the same product under a different name for years prior and then changed it to catch unsuspecting customers looking for our product. 
This product also makes similar (though completely unbacked) claims about their product. Make no mistake, the product is not a catalyst and does not provide the benefits that Pittsburgh Power's Max Mileage fuel catalyst, or any fuel catalyst, provides. These competing products are far less expensive to produce, but since they sell at a discount to Max Mileage and other catalysts, consumers think they are getting a good deal; in reality, they are overpaying for an additive that someone like Lucas or Howe's produce at a lower price. The bottom line is that those additives  are not a substitute for Max Mileage and solving soot-related emissions problems. Further, always be careful when buying anything for yourself or your truck from companies that seek to gain business via unethical or shady means (including parking lot truck tunes!), as those habits run deep. You are most likely not getting what you paid for.
Avoiding Major Highway Crashes
Years ago, all truckers used a CB Radio before AM and Sirius Radio. Yes, there was a lot of unnecessary chit-chat over the airwaves; however, everyone knew about it if there was an accident or traffic was stopped. I miss not having a CB in my Dodge Ram pickup to know what is ahead of where I am traveling, especially during the winter months. To avoid these multiple vehicle pile-ups, I think we need to get back to the use of CB radios, even if you keep it squashed down. Your informing other drivers on the highways can save millions of dollars' worth of crashed vehicles, downtime, and people's lives.
Written by: Jordan C Greathouse, Bill Felman, and Bruce Mallinson. Pittsburgh Power, Inc., 3600 S. Noah Drive, Saxonburg, PA, 16056. Phone (724) 360-4080. Email: [email protected]