​It's Important To Understand The Variables When Using A Test DDEC ECM For Diagnostics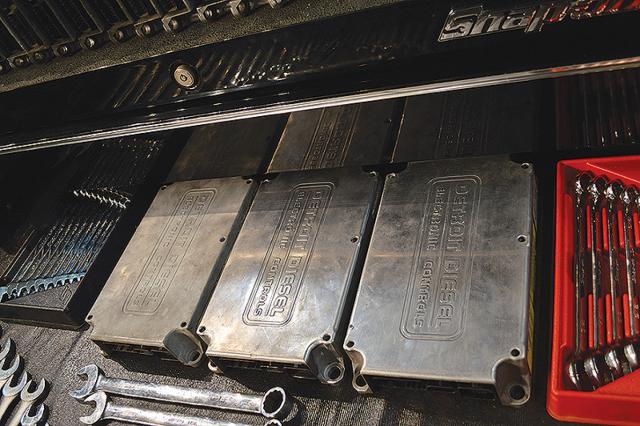 If you've got a Series 60 that won't fire (no start, no smoke) and your check and stop engine lights did not flash when you cycled the key then switching out the ECM with a test ECM can be a huge time saver. Ten minutes of work and even if it still doesn't fire you've cut your search for the problem in half. If you still don't see smoke, then you know your ECM is not the reason why your injectors aren't firing. Any healthy DDEC III or DDEC IV that's programmed for any Series 60 between the years 1994 to 2002 will fire the injectors of any other Series 60 in that year range when cranked. Most will start and run but unless that DDEC has the right injection timing for your Series 60 you should avoid going to full load. If I'm able to back up the files off your original DDEC I can program the spare to have the correct timing. I've set up quite a few owner operators with spare DDEC ECMs that they keep under their bunk just in case.

These days I do as much business with truck service shops, marinas, and small bus and truck fleets as I do directly with owner operators. These shops usually have a few extra DDECs sitting around that they use for test purposes. It's important to understand the limits of using a test DDEC for diagnostics. It's extremely common for technicians to make assumptions as to what can be concluded when a test DDEC changes the symptoms of a problem. Usually they conclude that the ECM is bad. About 20% of the DDEC ECMs that I get in for repairs don't actually need anything. I value time and I'm not big on wasting yours or my own. I want the ECMs you send me to have a problem. I want to be able to tell you I found your problem because if I can't find your problem you still have one.
When one DDEC is swapped with another you're not just changing out an aluminum box. Depending on the program settings you could also be changing injection timing, the injector trims, how much fuel is fired while cranking, the temperature sensor and boost pressure sensor calibrations, the fan clutch settings, the idle validation settings, the Jake and cruise settings, how the DDEC responds to an ABS derate or transmission derate, and more. Advanced injection timing can mask the symptoms created by many different problems both electrical and mechanical. So, when swapping out one DDEC for another it's important to realize you're not just changing one thing. I end up having to explain this to someone almost every day.
I've been working on a solution though. I've been developing a universal test DDEC for service shops and small fleets. I use the same technology as my switchable triple play controls to provide injection timing for up to three different Series 60 engines. I'm currently working on a DDEC III that will change its timing from a 1994 11.1 SK60 to a 1998 12.7 TK60, to a 2001 MK60 all with the flip of a switch. This way using a DDEC ECM as a diagnostic tool will be much more effective.
Written by Fernando DeMoura, Diesel Control Service LLC. Website: www.dieselcontrolservice.com Phone: 412-327-9400