​DDEC II ECMs Part 1: Why DDEC II ECM Support Is Hard To Find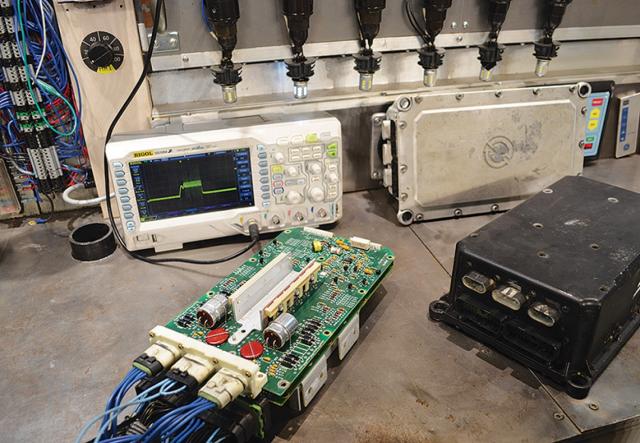 A big part of my business is the repair and rebuilding of DDEC III and DDEC IV core ecms. I replace the batteries, memory, electrolytics, and any other part that goes bad. Then I put the rebuilt ecms though some torture tests on the ECM dyno to test their durability. Each DDEC has to hold it's Jake brake on for over 30 minutes, run at over 2400 rpm without a misfire, activate it's cruise control and fan control. This is all done autonomously on the ECM dyno over a 10 hour period. If no errors are recorded I paint it, tag it, and make it available for resale.
I routinely buy used DDEC III and DDEC IV core ecms in need of repair but last month a salvage yard I'd purchased from before mailed me five DDEC II ecms and asked if I was interested in evaluating and possibly purchasing them. I told them "I don't work on DDEC IIs". Over the years, I must 've said those words a few hundred times. An old habit from when I got into DDEC programming in 2008. At the time DDEC IIs had no aftermarket programming options or support of any kind or at least not in the trucking industry and now almost 10 years later the industry still hasn't changed. DDEC II owners with motorhomes, firetrucks, sportfishing boats and of course trucks have been looking for someone to turn to. Usually owners of these DDECs are forced into doing an expensive DDEC II to DDEC IV conversion complete with all the added complexity of DDEC IV programming.
So why is the DDEC II shunned? First of all the DDEC II ecm is no longer supported by Detroit. So replacements come from a dwindling supply of used and often unreliable parts. Also diagrams, programs and ECM parts are hard to come by. Repairing an ECM is just like repairing anything else, you need to be able to get the right parts and getting parts for a computer that was made in the late 80s isn't easy. Especially when many of those parts have a shelf life. The last reason is more of a personal one. The company I worked for from 2007 to 2015 didn't bring in Detroit's older than 1994 so I almost never saw a DDEC II. During that period my efforts were directed away from the DDEC II but now that I'm independent I'm free to look into this myself.
I had kept all the DDEC II units in the box the salvage yard sent me because I was planning on sending them back later that day. After some thought I called up the salvage yard and told them I would buy all five DDEC IIs. Since then I've finished building my DDEC II ECM dyno testing harnesses. I can now fire injectors and test all major functions for the DDEC II. I am several months away from being able to repair or program these but this is where learning how to do that begins.
Written by Fernando DeMoura, Diesel Control Service LLC; Website: www.dieselcontrolservice.com Phone 412-327-9400