​Dan Girouard Honored as Smith Transport's 2018 Driver of the Year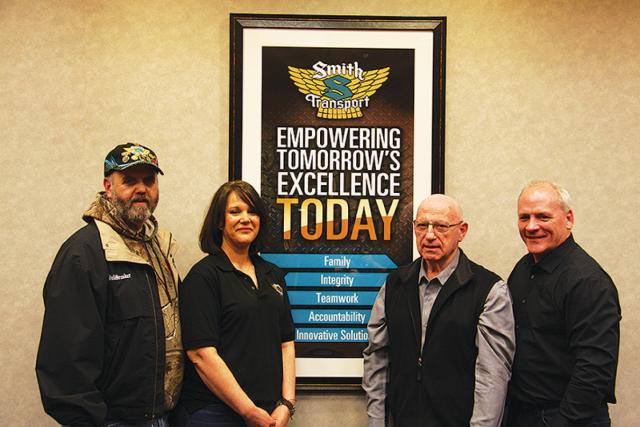 ROARING SPRING, PA…. Professional Truck Driver Dan Girouard, Smith Transport's 2018 Driver of the Year, was honored at a ceremony at Smith's corporate office in Roaring Spring on March 22nd. Dan has been in the running for Driver of the Year on several occasions, having been Smith's Driver of the Month in May 2012, March 2016 and April 2018. Dan has been driving truck for 41 years, since he turned 18 years old; the past 12 years he has been a driver for Smith Transport.

To be eligible to be selected as Driver of the Month or Driver of the Year at Smith a driver must: have no chargeable accidents or incidents; exhibit a strong work ethic; and have a positive attitude.
For his efforts, Dan received a Golden Eagle trophy, 2 jackets, a specially embroidered hat, a bonus check for $2,500, $200 gift certificate for merchandise in the Smith company store, 3 certificates for truck washes, gift cards for Amazon. A gift card for Bed, Bath and Beyond was presented for Mrs. Girouard. Additionally, Dan will receive his choice of a brand-new tractor to be added to the Smith fleet. Dan chose a new Peterbilt 389. He will also receive personalized Driver of the Year decals for his truck.
Dan has driven 1,677,657 safe miles since joining Smith Transport. In 2018 he delivered 273 loads on time and logged 151,00 safe miles. Dan credits his Driver Manager Theresa Siedel and the staff of Smith Transport for enabling the success of his professional driving career. Dan stated, "Accomplishments cannot be achieved alone. I thank the folks at Smith Transport and my family for helping me be the best driver that I can be. Smith Transport is a great place to work, with good people to work with. They have excellent equipment and pay us well."
Dan resides in Hope Valley, Rhode Island with Karen, his wife of 32 years. The couple has a daughter, Caitlen. Dan spent 24 yeas in the U.S. Army, achieving the rank of Master Sargent. While in the Army, Dan earned degrees in Business Administration from both Vincennes University and Excelsior College. Dan's handle is "Rulebreaker." When he isn't out on the road driving truck, he enjoys riding his Harley. Dan is also a diehard Pittsburgh Steelers fan.
Congratulations Dan! May you have many safe years and miles ahead of you!
Caption: Left to right: Dan Girouard, Theresa Siedel, Barry Smith and Todd Smith.