Daimler Truck North America Commemorates 750,000th Vehicle Produced at Mount Holly Truck Manufacturing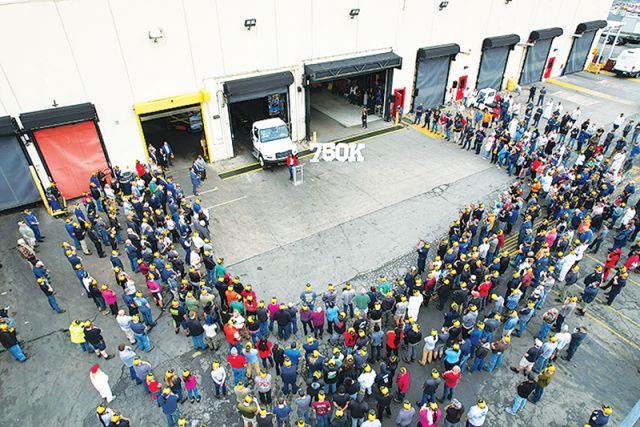 Mount Holly, NC…  Daimler Truck North America LLC (DTNA) today commemorated the production of the 750,000th vehicle built at its Mt. Holly truck manufacturing plant. Keys to the milestone vehicle – a Freightliner M2 106 Plus – were presented to representatives from Penske Truck Leasing during a ceremony at the facility.
"Since it opened, the Mt. Holly plant has earned a strong reputation of manufacturing excellence based on teamwork, collaboration and partnership with our valued customers," said Jeff Allen, senior vice president, operations and specialty vehicles, Daimler Truck North America. "As the longstanding home to our M2 and SD vehicle lines, we're honored to present the milestone 750,000thtruck from Mt. Holly, an all-new M2 106 Plus, to Penske Truck Leasing."
"Penske appreciates the partnership with Daimler Truck North America and the dedication the team at Mt. Holly has for satisfying the needs of our customers with quality trucks," said Paul Rosa, senior vice president procurement and fleet planning, Penske Truck Leasing. "We look forward to adding this M2 106 Plus, and many more, from Mt. Holly to our North American fleet in the coming months."
Freightliner Trucks opened the Mt. Holly truck plant in May 1979. It began by building a variety of heavy-duty Freightliner trucks for over-the-road applications. In 1991, it started producing the original Business Class trucks, progenitor to the Business Class M2 line introduced in 2002, and the Plus series line introduced in 2022. The changeover from legacy M2 and SD product lines is ongoing, and the plant will continue to ramp output of the Plus series. Mt. Holly Truck Manufacturing Plant currently employs 1800 people.
 The enhanced Plus series includes the M2 106 Plus, M2 112 Plus, 108SD Plus, and 114SD Plus and are marked by significant updates to interior and electrical system of legacy vehicles. Plus series interiors feature improved ergonomics and increased storage, while its new electrical architecture gives customers access to the industry-leading Detroit Assurance with ABA5 suite of safety systems and the QuickFit Electrical System that makes integrating truck equipment to the vehicle easier than ever.