​Cleveland Brothers Now Offers Service For Detroit Diesel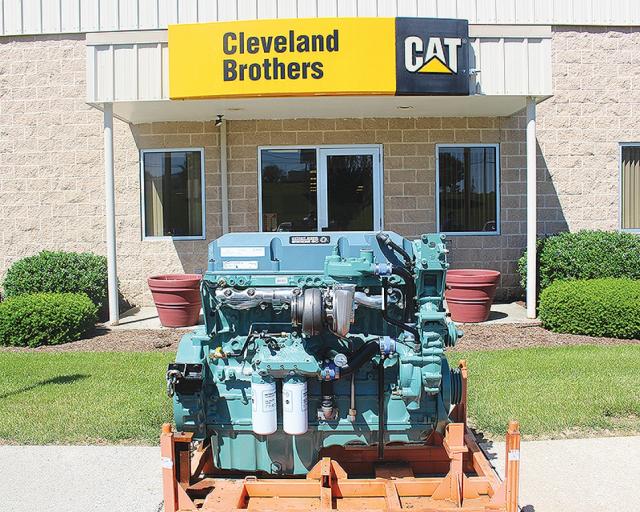 Harrisburg, PA…. Cleveland Brothers, the exclusive Cat® dealer in Pennsylvania and northern West Virginia, has expanded capabilities to offer full parts and service support for Detroit Diesel engines. They have factory software and trained technicians to service all Detroit Diesel engines, including Series 60, DD13 and DD15.

Cleveland Brothers has also been servicing Cummins ISX, ISL and ISM engines since 2016. Trained technicians can perform everything from light repairs and electronic diagnostics to major overhauls on all Cat, Cummins and Detroit engines. In addition, Cleveland Brothers offers their customers a full 3-year/300,000-mile warranty on Cummins and Detroit overhauls, as well as complete financing options up to 36 months. Finance rates run as low as 0% APR and credit terms are available for customers of all credit ratings.
With 13 full truck service locations across the state of Pennsylvania and into West Virginia, full service and parts availability is only a short distance from where you are. Not only does Cleveland Brothers offer engine repairs, they take care of your entire truck, too. So if you're on the road and find yourself needing a repair, you've come to the right place. Cleveland Brothers provides bumper-to-bumper repairs for all makes and models of trucks. They represent over 100 name brands of truck parts and are members of the Eaton Roadranger Repair and Warranty Network. Some of the in-stock parts for Cummins and Detroit include stainless oil pans and stainless EGR coolers for both engines. They also offer planned maintenance to give you control and options over breakdowns, instead of limited options and little control when you find yourself with a broken-down truck. The best part is that when you use Cleveland Brothers for your repairs, you can head down the road with the confidence that the job was done right.
Need an inspection? Cleveland Brothers can help with that, too. Each facility location in Pennsylvania can perform a PA State and Federal DOT inspection. As a bonus, every vehicle that receives service, from oil changes to overhauls, receives a complimentary DOT inspection before leaving the shop. This is one of the ways Cleveland Brothers proves itself as a valued business partner to each customer.
Another new exciting addition to Cleveland Brothers this year is Bibeau Dump Bodies. Cleveland Brothers is a proud new distributor of Bibeau, which you can purchase and finance at any Cleveland Brothers truck location. With several unique options to choose from, you'll get a steel body that is lightweight and rugged with wider rub rails and rear posts, as well as features like built-in conduits and specially designed door hinges. The trained technicians at Cleveland Brothers will install your Bibeau Dump Body with any options you desire, and you can go to any of the 13 locations for parts and service support for your dump truck.
Or if you have been thinking of purchasing a glider kit, Cleveland Brothers has a wide range of engine and glider options available, including the popular 6NZ Cat engine. Their experts can help you spec a glider built for performance or fuel economy without the hassles, expense and headaches of DPFs and SCR systems.
Whether you need engine or body repairs, preventive maintenance, a new truck body or a glider built, call Cleveland Brothers for quality service. To contact a truck service representative at Cleveland Brothers or find one of their 13 locations, call 844-800-0801 or visit www.clevelandbrothers.com/movinout